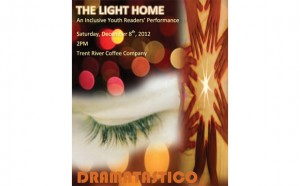 Saturday, December 8th, 2pm – 4pm
Trent River Coffee Company, 208 Craven Street
The students of DRAMATASTICO are presenting an inclusive readers' theatre performance of "THE LIGHT HOME". THE LIGHT HOME is a series of diverse holiday vignettes written by Beth Gosnell and Patricia Thomas; directed by Beth Gosnell and Krissy Boccia; assistant directed by Noah Auten; and leaving the best for last, starring the students of DRAMATASTICO!
We hope you can share in our holiday dreams and wishes! Tickets are $3 for adults, $1 for children under 12 and children 5 and under are FREE.
For tickets please contact Beth Gosnell at (252) 633-6082 Seating is limited!
Submitted by: Beth Gosnell, Artastico