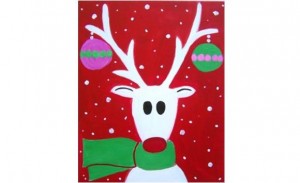 Wine and Design New Bern invites you to a Special Holiday Lunch!
Join us at Wine and Design to paint this holiday reindeer! Lunch will be provided by Thea's Ideas and New Bern Now.
Date: December 5, 2012
Time: 11am-1pm
Location: 2117 S. Glenburnie Road
$25 per person
Canvas, paint and paintbrushes provided
Information provided by Wine and Design New Bern
We hope to see you there!
Wendy Card