November 30, 2012
Pre-concert: Meet the Artists – 6:45 – 7 p.m. Concert – 7:30 p.m.
Cullman Hall, North Carolina History Center
The next "Music Among Friends" installment of Tryon Palace's Performing Arts Series features Viva Vivaldi with The Vivaldi Project of Washington, D.C. on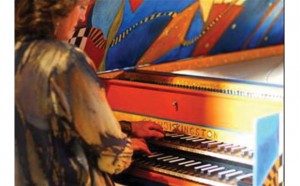 November 30, 2012 at 7:30 p.m. in the North Carolina History Center's Cullman Performance Hall.
In the words of The Baltimore Sun, who found their concert "simply breathtaking," this eight- member ensemble performs with "buoyant spirit, expressive warmth," as well as "virtuosity."
The Vivaldi Project features some of the country's leading baroque music performers and their period instruments, bringing to life music as it would have been heard in the 17th and 18th centuries.  This evening offers a wonderful sampling of some of Vivaldi's most brilliant concertos:  two orchestral concertos, and solo concertos for violin, cello, and the exquisite viola d'amore.
Special period instruments will include an antique form of lute known as the theorbo, and the harpsichord, which will be played by world-renowned recording artist Elaine Funaro.  Viva Vivaldi's electrifying improvisation and instrumental vitality bring the perfect "ornamentation" to your holiday season.
For more information on The Vivaldi Project, visit www.thevivaldiproject.org.
For those guests who are hard of hearing, special devices are available. Please contact Penne Sandbeck at (252) 639-3593 or send an email 48 hours in advance to make arrangements.
Doors will open at 6:30 pm, meet the artist at 6:45 pm, concert begins at 7:30. Ticket prices are $25 general admission, $20 for Tryon Palace Council of Friends members and Active Military, and $10 for students with ID. Reserve your tickets by calling 252-639-3524. Tickets are also available at the Tryon Palace Main Ticket Desk in the North Carolina History Center and on the evening of the concert, based on availability.
Submitted by: Amy Hammond, New Bern – Craven County Convention Center