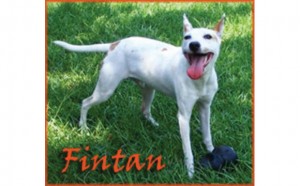 The thing I love about working with the New Leash on Life prison dog program is the great diversity with each dog and each adoption.  This past class had a young Whippet mix named Fintan.  He was a unique dog with great intensity. Not long into the session, I received an email from the prison saying that Fintan would not make a good family dog; and that if he was adopted into a family, the chances of it lasting were pretty slim.
Ok, now what do I do with this dog? As I always do, I gave it to a higher power. Later that same week, I received an inquiry from a lady in Atlanta GA looking for a Frisbee/dock diving dog. She is a dog trainer and has a boarding/day care facility and was looking for a dog to train for competitive Frisbee.  Her current Frisbee champion was getting slower and it was time to retire.
To our knowledge, Fintan had never even seen a Frisbee. So began, a team effort to get this dog ready for this wonderful life ahead of him. Drake Parker of Top Dog Academy in Greenville, quickly went to the prison and worked with the dog and his trainer and taught both of them the art of Frisbee throwing/catching and how Fintan can use his front foot to tip the Frisbee on edge so he can grasp it with his mouth. Then the lady wanted to see him in action – and Fintan has plenty of 'ACTION' so Drake made a video to send her.  She loved it but said "wouldn't it be nice if the dog could also do search and rescue – can you test him for cadaver sniffing?"  Trinity Smith of the Craven/Pamlico Animal Services contacted someone on the Search and Rescue team for the City of New Bern Police Department and they were able to provide the necessary cadaver scent for testing.  Again, he passed with flying colors.  Not only was the adopter getting a potential Frisbee competition champion, a search and rescue dog and a great pet.
So far, so good. Yes, she wanted to adopt this dog but she could not come to graduation to get him because she was taking a course in California that week and then had to go to Utah to give a talk.  Could we hold him for a couple of days?  Drake was happy to foster him at Top Dog Academy until she could come.
Last Sunday night she was on her way to pick him up on Monday morning when she received a call saying that her daughter-in-law, who had just had a baby that week, had contacted the bacteria infection MRSA – Methicillin-Resistant Staphyloccus Aureus.  Come quick – she was in critical condition. Kim made a u-turn and headed to Ft. Hood where her son and daughter-in-law were stationed in the military. Sadly, the daughter-in-law did not make it – leaving behind the baby and two children under the age of five.  Now maybe, Fintan will add family dog to his resume after all.
So, Fintan is spoken for but not yet in his new home. He will have a wonderful life doing fun things and will, hopefully, be home for Thanksgiving.  This could not have happened without all of us working together. They say it takes a village to raise a child – well sometimes it takes a team to get a little dog adopted into a home with the right fit. Good luck, Fintan. I know we will see him in competitions in the future.
Thanks to all of you wonderful people that have purchased raffle tickets.  So far, our raffle campaign is very successful.  The drawing will be Thanksgiving and we will notify the winners quickly.
Submitted by: Bonnie Compton, Pals for Paws