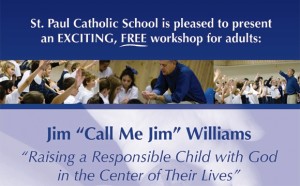 St. Paul Catholic School would like to invite the entire community to attend a workshop for adults on Thursday, November 8th, 2012, from 6:30 to 8:30 pm. The speaker will be Jim Williams or better known as "call me Jim." Williams is the author of the book "Parenting on Point."  The theme of the workshop is "Raising a Responsible Child with God in the Center of Their Lives." It will be held at the St. Paul Family Life Center, 3009 Country Club Road, New Bern. If you are a parent, grandparent, teacher, work with children or are just genuinely interested or concerned about children, this is a program you will want to attend!
Jim challenges his audiences to seek the truth. He feels most at home when he is able to bring his faith into the picture. He believes that children need a sense of direction and a place to call home. Children especially need this when they are away from adult supervision and the pressure that comes from their peers is at its peak. The job of all adults that work or have contact with children is to guide them along God's path.
Eight years ago Jim began to realize that many of the students that he spoke to seemed to be missing that spark that comes when one feels loved and accepted. Through letters and surveys he was able to confirm that many students were being bullied at school. He started to include bully behavior with his gateway drug programs.
You won't want to miss this exciting workshop. So bring your friends and find out more about Jim Williams. If you have any questions or need more information please call St. Paul Catholic School at 252-633-0100.
A BBQ pork or chicken dinner is available prior to the workshop from 4-6 PM. The cost per plate is $7.00 and proceeds benefit the 8th Grade Class Trip. Please call 252-633-0100 to reserve a plate. No reservations are needed for the Workshop.
Submitted by: Nancy Stewart, Public Relations, St. Paul Catholic School