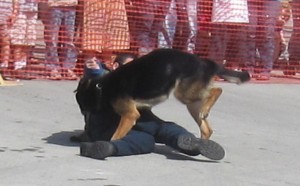 Saturday, Nov. 10 at 10 a.m.
Craven County Agricultural Center
300 Industrial Avenue, New Bern.
Directions: Hwy 70W, Take Clarks Rd exit, take right at end of ramp, Right to Industrial Ave.
Presenters:  Dona Baker of Masterful Dog Training, Inc.; Trinity Smith, Craven County Animal Control Supervisor; and Jill Nobles of Jill's Pet Gallery.
Each year thousands of people are bitten by dogs, some that they know and love.  A vast majority of those bitten are children.
This is an interactive program for people of all ages. Children must have an adult present during the presentation.
Everyone, regardless of age, will learn important information on body language that dogs use to communicate their feelings.
Learn the do's and don'ts when around dogs…learn tips to help avoid a dog bite.
Are you worried about how your dog is going to react when people approach?
Come and learn about your dog.
No live dogs at this presentation.
Contact Dona Baker, Masterful Dog Training, 252-672-K9ED (5933).
Submitted by: Dona Baker