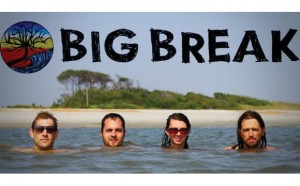 Broad St. Social Club hosts upcoming rock band, BIG BREAK, Saturday, November 3rd at 9pm.  The group, together for a little over 2 years now, toured the Carolinas this summer, promoting their 1st and self-titled album.  With the 2nd full production LP, entitled "Headful of Melodies" due out this winter, the band is sure to keep busy.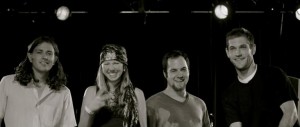 Front man and songwriter, David Myers, started as a solo artist then paired up with drummer Stephen Williams.  Stephen recruited bass player, Alan Erickson, who is also classically trained on piano.
You might see him playing the 2 instruments at the same time!  At last, the band picked up Ashley Honbarrier, at the release of their 1st album.  She brings in congas, tambourine, and additional percussion, as well as backing vocals to the show.
Myers and BIG BREAK put on an energetic, powerful performance.  Sounds range from funky guitar chops for a  surf rock/reggae feel, to smooth capturing melodies and lyrics for a softer folk rock side.  Funky bass lines and keyboards will have you toe tappin' and out of your seat!  The style of BIG BREAK has been compared to that of Sublime, Red Hot Chili Peppers, The Black Keys, and Jack White.
BIG BREAK is on the rise!  You sure do not want to miss this show!
For more information, visit our website and Facebook page.
Submitted by: Ashley Honbarrier, Booking/Marketing/Advertising, BIG BREAK