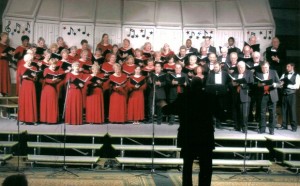 Craven Community Chorus announces their Christmas Performance – "Christmas Near and Far".
The Craven Community Chorus Christmas show is considered by many to be the official beginning of the Christmas season.
This year the chorus will perform John Rutter's Gloria as the featured work. The Gloria was written as a concert work with the Latin text drawn from the Ordinary of the Mass. Rutter's work for this is based mainly on one of the Gregorian chants. There will be a selection of Christmas music including Holiday on Broadway, What Child is This, and African Celebration. Brahm Wenger's Season of Joy will be sung in five different languages including Japanese.
Performances will be at 7:00 PM December 6th, 8th and a 3:00 PM matinee on Sunday the 9th in the Orringer Auditorium at Craven Community College.
Craven Community Chorus was founded by Philip Evancho who has been its Director and Conductor for the past 27 years. Jim Wilson and Arnie Uvalle will also conduct several pieces.
Tickets will go on sale October 26 and can be purchased from any chorus member or at Bank of the Arts, Fullers Music or The River Bend Deli. Tickets are $12.00 each in advance, $15.00 at the door.
For additional information see the chorus web page at www.cravenchorus.org.
Submitted by: Jim Cline, Craven Community Chorus