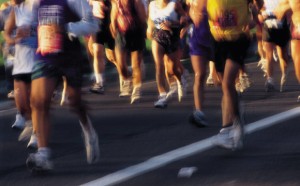 The 13th annual Great Mullet Run, sponsored by the Swansboro Rotary Club and Tideland News, will be run November 10, 2012 in Swansboro. The event also includes a one-mile walk/run.
Both races will begin and end at the Hammock Beach State Park Visitors Center. The 5K course is USATF certified.
The mile run is scheduled to start at 8:30 a.m. and the 5K starts at 9:30 a.m.
The race is dedicated to the memory of Lee Cooper of Peletier, who died in February 2007. Cooper, who was a retired U.S. Marine and an avid runner with more than 100 marathons to his credit, was a long-time supporter of the Mullet Run.
Race participants can register online at Active.com. Late registrations will take place on Nov. 9 at the Rotary Civic Center in Swansboro, 4-6 p.m. Race-day registration will begin at 7:30 a.m. at Hammocks Beach State Park. Runners who are pre-registered can pick up their numbers at either location.
The entry fee is $15. T-shirts, while they are available, are $15, with registration. This year's race will also include a family entry. A family of four (parents and children) can enter either the 5K or the one-mile for $40. Each additional family member can register for $10.
Winners will be named in eight age categories, including 15 and under, 16-19, 20-29, 30-39, 40-49, 50-59, 60-69, and 70 and over, in the 5K.
Trophies will be given to the top three finishers overall, and for the top three finishers in each age category.
The top three finishers in the mile run will receive medals. Complete results will be posted on the Internet at www.swansbororotary.com.
For more information, call Charles Teachey at (252) 393-2301 or Jimmy Williams at (910) 326-5066. Teachey can also be reached by e-mail at cteachey@ec.rr.com.
Submitted by: Michael Afflerbach, Radio Free ENC