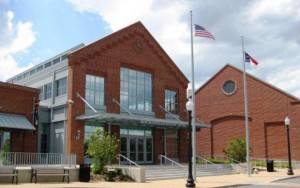 Sunday, November 4, 2012 at 3 p.m in the Cullman Hall of the North Carolina History Center
Book signing by author at 4:15 pm
Courtesy of a generous grant from the Harold H. Bate Foundation
On Sunday, November 4, the Tryon Palace 2012 Garden Lecture Series welcomes award-winning historian Andrea Wulf for a lecture, "Founding Gardeners. The Revolutionary Generation, Nature, and the Shaping of the American Nation." Ms. Wulf's beautifully illustrated talk will look at the lives of the founding fathers and how their attitude to plants, gardens, nature and agriculture shaped the American nation. George Washington, John Adams, Thomas Jefferson and James Madison regarded themselves foremost as farmers and plantsmen; for them, gardening, agriculture and botany were elemental passions, as deeply ingrained in their characters as their belief in liberty for the nation they were creating. In a unique retelling of the creation of America Ms. Wulf will illustrate how plants, politics and personalities intertwined as never before.
Andrea Wulf was born in India, moved to Germany as a child, and now lives in Great Britain. She is the author of several books including "The Brother Gardeners. Botany, Empire and the Birth of an Obsession," which won the American Horticultural Society 2010 Book Award and was long-listed for the Samuel Johnson Prize 2008); and "Founding Gardeners," which was published to great acclaim in spring 2011 and earned a place on the New York Times Best Seller List. Ms. Wulf has written for the LA Times, Wall Street Journal, the Sunday Times and the Financial Times and reviews for several newspapers, including the New York Times. Her latest book is "Chasing Venus. The Race to Measure the Heavens".
For more information, contact Brandon Anderson, Director of Education, at 252-639-3584.
Submitted by: Amy Hammond, New Bern-Craven County Convention Center on behalf Brandon Anderson, Tryon Palace