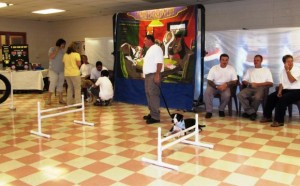 This is the time of the year that those of us at PALS FOR PAWS hold out our hands, pass the collection plate, ring our bells or, better yet, distribute our raffle tickets. Sometime in the next couple of weeks, you will find an envelope in your newspaper box that has our name on it and raffle tickets inside. Please do not throw it away. Instead, put your information on the ticket stub and put the stubs back in the envelope along with your tax deductible contribution.
The raffle tickets are $2 each or six for $10. The 1st prize is $250, 2nd is $100 and 3rd prize is $50. The drawing will be at Thanksgiving and you do not need to be present to win.  Who couldn't use an extra bonus of cash in their pocket during the holidays?
Every penny is used in our spay/neuter program to prevent the birth of unwanted kittens and puppies. We are very proud to report that in 2011, we prevented 174 dogs and 333 cats from reproducing. Up to July of this year, we have spay/neutered 135 dogs and 239  cats. As a female cat can have several litters each year, we have prevented the birth of thousands of unwanted and homeless kittens since our program began.
We are also the adoption counselors for the New Leash on Life program that finds homes for shelter dogs placed in the Craven Correctional Institution for housebreaking, obedience training and leash training. Every eight weeks, four dogs from the shelter are put into loving permanent homes to give lots of unconditional love to their new families.
It is through your generosity that our work is able to continue. Remember that we match each dollar that an individual pays for the spay/neuter procedure. The individual pays part and we pay part.
If you would like to help us distribute our tickets, please give Sheila Rohner a call at 252-636-0510. We need volunteers in River Bend, Trent Woods, Taberna, Fairfield Harbour and New Bern. It is a fun job if you team up with a friend and can be done any day or evening at your convenience. It is a good way to get some exercise.
Just a reminder that there are other ways that you can contribute. You can make a donation in the name of a friend's birthday, someone who has passed away or to honor a special occasion. We will send them a lovely card in your name.
There are a few thank yous that are needed here. We would like to thank Alpha Graphics of New Bern in their help in printing the tickets and letters and giving us a substantial discount. And, not to forget, Sally Langenbach who stuffed 5,000 envelopes all by herself. This is the second year that Sally has done this for us.
A big thank you to Animal Care Center on Highway 17 in New Bern, who does not like us to put their name in our advertising, but we couldn't do our spay/neuter program without them.  We are eternally grateful for their generosity in providing their services to our group at a discounted rate so that we can pass it on to you.
Stop by our booth at the MumFest to say hello and offer your support.
Thank you from all the volunteers at Pals for Paws. We are a small group but we get a lot of work done and make a big difference.
Pals for Paws, 252-637-7387
Bonnie Compton – President
Sally Langenback – Vice President
Shiela Rohner – Treasurer
Kathy Gentile – Secretary
Submitted by: Bonnie Compton