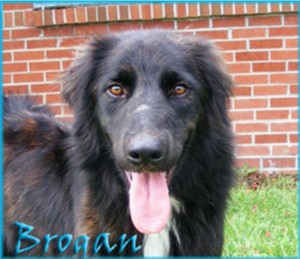 Brogan
'These are the things I firmly wish you:  someone to love, some work to do, a bit of sun, a bit of cheer, and a good dog always near."
Brogan is certainly a handsome lad. He is about 18 months old, weighs about 50 lbs and is a Setter mix. He seems to like other dogs but especially likes people.  He is still a very goofy puppy and is looking for someone that will want to play and be active with him. He would love to go for long hikes, camping and any other activities that you share with him.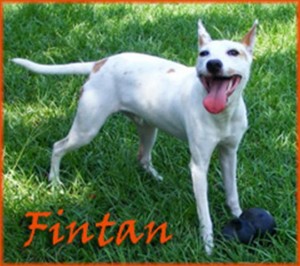 Fintan
"May your neighbors respect you, trouble neglect you, the angels protect you and  heaven accept you."
Fintan is a year old neutered male cutie weighing about 30 lbs. He is white and tan and is possibly a Whippet mix. He is a bundle of energy and loves to play ball. Fintan loves other dogs and cats and enjoys an energetic romp.  He is constantly on the go and needs an active family that will play with him daily.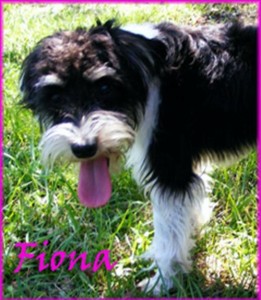 Fiona
"May your heart be warm and happy with the lilt of Irish laughter every day in every way and forever and ever after."
Fiona is a year old, spayed female terrier mix. Have you ever seen anything cuter? What a doll baby, she is! She weighs about 12 lbs and will fit on your lap nicely.  She is full of energy and a lot of fun. She gets along great with other dogs but is really a "people person." She just wants to be with you and make you happy.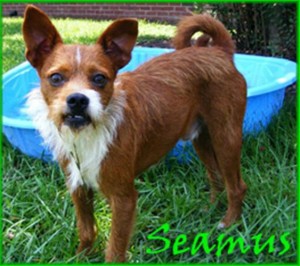 Seamus (pronounced Shaymus)
"May the Leprechaun be near you to spread luck along your way and may the Irish angels smile upon you today."
This little Leprechaun is looking for his permanent home. Seamus is a 2 year old terrier mix. He is a neutered male weighing about 15 lbs. He gets along great with other dogs and cats but especially loves attention from people. He is a talker and will carry on a real conversation. He is a typical terrier, full of energy, and curiosity about life. He would love to join an active family as their special companion.
Currently, Brogan, Fintan, Fiona, and Seamus are at the Craven Correctional Institution being trained by an inmate on basic obedience as well as crate trained, leash trained and housebroken.  They will be "move-in ready" for a lucky family at Graduation on November 7th.
Would you like to bring one of them home?  If so, it is necessary to complete the application found on www.palsforpaws.org and email it to Bobbie Compton. A home visit and veterinarian recommendation is required. Bonnie can be reached at 252-638-2358 to discuss your qualifications and arrange a visit so you can meet them in person.
Submitted by: Bonnie Compton, President, Pals for Paws