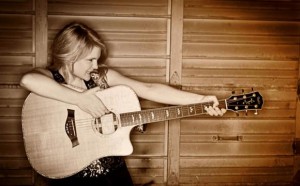 The Lizzy Ross Band will play at the Broad St. Social Club on Friday, September 21st.
Doors will open at 8pm and the show will start at 9pm at the Broad Street Social Club, 411 Broad St. Tickets are $8.
Chapel Hill, NC's Lizzy Ross Band delivers exuberant Americana/Folk/Rock. Well-crafted lyrics are woven into sophisticated arrangements that include touches of country, roots rock, and a dash of Motown. Ross's voice delivers a charming trill one moment, only to erupt in rough, bluesy emotion the next. It's a powerful instrument that's earned her comparisons to artists like Grace Potter and Edie Brickell.
In July 2012, Lizzy Ross Band won a #2 spot at FloydFest's Under the Radar series. In April 2012, Lizzy was named a finalist in the Kerrville New Folk Songwriting Contest, joining past competitors Lyle Lovett, Lucinda Wiliams, Nanci Griffith, and Townes Van Zandt.
In 2011, Lizzy was voted North and South Carolinas' Best Rock Female of the year and received a standing nomination from the Charlotte Music Awards for Best Blues Female. Lizzy Ross Band also scored a #1 spot on HGMN radio charts and an Emerging Artist Award from the Durham Arts Council, and released their debut album Read Me Out Loud.
"Soulful and ambitious… confident Americana Pop/Rock" – Ashley Melzer, Independent Weekly
"Folksy, jazzy, bluesy in all the best senses of the words… a voice like cigarettes and the smoothest whiskey you've ever tasted." -Stephen Markley, Chicago RedEye
Visit www.lizzy.net for more information.
Submitted by: The Lizzy Ross Band