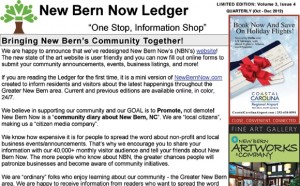 We are happy to announce that the October – December Quarterly Ledger publication is available online, in color! Hardcopies will be distributed throughout the Greater New Bern area next week.
Some people think that New Bern Now is staffed with a lot of people. I'm proud of the fact that five of my friends (with numerous special talents and backgrounds) have teamed up with me to provide quality information. The fact is; I'm the only writer/editor for the Ledger.
That's why I would like to send a special thank you to everyone in our community who contributed to this Quarter's – October 2012 Ledger Publication, as it's filled with valuable information!
I really appreciate our sponsors for their support! Without them, we couldn't afford to print the 20 page area guide that's distributed at the Airport and numerous locations throughout the Greater New Bern area.
This isn't just for visitors, as most of the information was provided by locals!
The Ledger was sent to Griffin & Tilghman Printers and should hit the streets next week!
Please feel free to send us your input so we can improve for the next edition due out in January 2013. We welcome constructive feedback!
Tell us what you think by commenting below or sending us an email. Visit New Bern Now's Facebook Page and "Like" it to stay up to date on the latest community happenings in New Bern!
Thank you,
Wendy Card