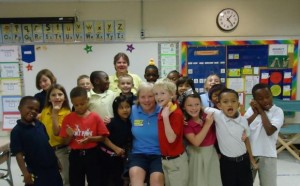 We received a special invitation from School Teacher, Anitra Thomas, to visit her 2nd grade class to talk about community service.
This was the first time I've been asked to visit a classroom. Since I don't have any children, I have to admit, I was a bit nervous. I reached out to New Bern Now's Facebook friends for some advice and received some terrific ideas on what to talk about.
Laura Johnson joined me for morale support and she brought her "Larry King" microphone that she uses for NBN's radio interviews. The kids were impressed and if we had more time, perhaps she could've interviewed them for fun.
When I heard Susan Moffat-Thomas, Director of Swiss Bear Downtown Development Corp., was scheduled to talk after me, I was relieved that I wasn't after her as she a "hard act to follow"! Especially since the children were excited about the upcoming MUMFEST.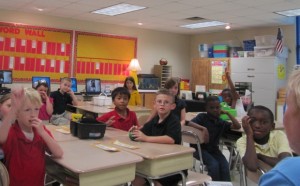 Thea Kincaid of Thea's Ideas gave me some fun promotional products to give away as prizes. I was very impressed when I asked the kids questions about New Bern and was pleasantly surprised by the interaction as all the hands went up. The students are very smart and I credit Anitra Thomas as she led the class with kind words of encouragement. They were so well behaved.
On our way out we ran into Dr. Bobbi Kotrba from Craven Animal Hospital and volunteer for local rescue organizations who was talking to another class.
Special thanks to Anitra Thomas, the teachers, and staff at Trent Park Elementary School for all your hard work in molding our future leaders!
Tell us what you think by commenting below or sending us an email. Visit New Bern Now's Facebook Page and "Like" it to stay up to date on the latest community happenings in New Bern!
Wendy Card