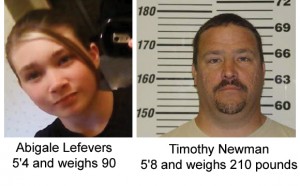 Update: Thankfully, Abigale Levers was found safe in Florida and Timothy Newman was apprehended.
The Carteret County Sheriff's Office has issued an Amber Alert for Abigale Lefevers, a white female born on 12-01-1999. Abigale is 5'4 and weighs 90 pounds. She has brown hair and brown eyes.
Abigale may be accompanied by Timothy Newman, a white male born on 08-16-1974. Mr. Newman is 5'8 and weighs 210 pounds. Mr. Newman is a registered sex offender. He may be traveling in a 1998 Chrysler Sebring displaying NC tags AKT-6534.
If you observe these individuals use caution and contact the nearest law enforcement agency.
Information provided by: Paul Branaman, Corporal, Craven County Sheriff's Office, Campus Resource Officer, Craven Community College, (252) 514-4178 Office
Submitted by: Michaelé Rose Watson