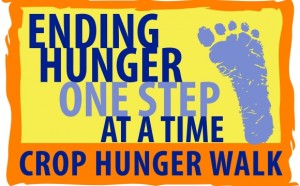 The 2012 New Bern Area CROP Hunger Walk to be held on Sunday, October 7 at Union Point Park. Registration/Team Check-in will begin at 2:00 p.m. and the walk will start at 3:00 p.m.
Looking to make a difference in these trying times, the 31st Annual New Bern Area CROP Hunger Walk has set a goal of 300 Walkers and hopes to raise $30,000 to help stop hunger and poverty here in our community and around the world, through self-help initiatives. A portion of the funds raised here in New Bern will go directly to RCS (Religious Community Services). Last year, 235 Walkers raised more than $22,000 in the New Bern Area CROP Hunger Walk.
For more information about the New Bern CROP Hunger Walk, contact Jennifer Butler via email or call 252-288-4927. Groups and individuals can register and donate on-line at www.cropwalkonline.org/newbernnc.
Submitted by: Jennifer Butler, New Bern CROP Hunger Walk 2012