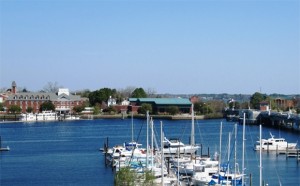 We really have a great time learning something new about New Bern so we decided to share the information with you.
Most native New Bernians have an advantage as you probably know all the answers, but who knows!
When I grew up 10 minutes from Niagara Falls, it was the last place I wanted to go because that's where all the tourists were. I wanted to search for new and exciting adventures!
This week's question for a free MUMFEST t-shirt was: What New Bern Native signed the Constitution of the US? Nina Randone answered Richard Dobbs Spaight and Jennifer Bertling responded Richard Dobbs Spaight, Sr. Since I wasn't more specific with the question, I'd like to congratulate both Nina and Jennifer for winning a MUMFEST 2012 t-shirt!
You can visit his graveside memorial on Madam Moore's Lane in Brice's Creek.
Visit New Bern Now's Facebook page for a chance to win a special prize! The first person to guess by responding on Facebook, will win the prize.
Thanks for participating!
Tell us what you think by commenting below or sending an email. "Like" New Bern Now's Facebook page to follow the latest happenings!
Wendy Card