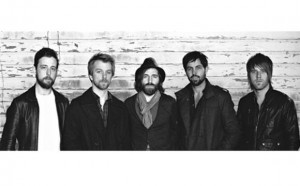 Friday, September 7th at 9pm. $10 – tickets on sale now!

Crowfield (Charleston, SC) roots rock! The Sweet Sounds Of Crowfield – Band Brings Album Release Party and High Energy Show To New Bern, NC.
Crowfield is set to play New Bern, NC, for the first time in several years on Thursday September 7th, 2012 with an album release party at Broad Street Social Club.
Crowfield blends Infectious, charismatic rock with elements of Americana, alt-country, and pop and has been captivating audiences across the U.S. with an engaging stage presence and insightful and poignant lyrics. Frontman Tyler Mechem formed the band that would come to be known as Crowfield when he relocated to Charleston, SC in 2005 from Indiana. In 2008, they caught the ear of acclaimed producer Rick Beato (Shinedown, Needtobreathe, Crossfade, Trey Anastasio, Stuck Mojo, Charlie Mars). Crowfield's debut album "Goodbye, Goodnight, So Long Midwestern" (Ten Star Records) soon followed and won the band a legion of fans with it's stripped down focus on rock and alt-country.
Crowfield's third album features a return closer to the band's original sound. The album, also produced by Beato, features everything from ethereal acoustic solo numbers like "Measure of a Life" to soaring radio ready tracks full of horns and strings like "Catching Up" to the rock of "Mistake" and "Black Hills." Formerly signed to Universal Records, Crowfield is full of broad commercial appeal and is currently on tour across the United States.
Dirty Bourbon River Show (New Orleans, LA) a damn good time…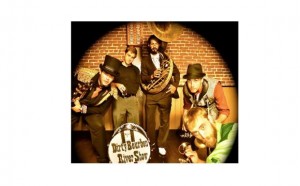 Wednesday, September 12th at 8pm. $6

New Orleans combo Dirty Bourbon River Show calls themselves a "gypsy-folk-circus-rock band. Their exotic, carnivalesque stage show backs up the claim. The lineup features five skillful musicians who don't mind swapping instruments from time to time: Noah Adams (vocals, chordophones), Dane "Bootsy" Schindler (percussion), Big Charlie Skinner (vocals), Jimmy Williams (bass and tuba), and Matt Thomas (woodwinds). They first congregated in 2008, initially playing under the moniker Buck Johnson and the Hootenanny Kid. They eventually evolved into an audience-interactive revue, playing a mix of musical styles — from folk, blues, and jazz to Latin, gypsy, and the most eclectic elements of the New Orleans underground.
Upcoming honorable mentions:
– Friday, Sept. 21 at 9pm. $8, Lizzy Ross Band (Chapel Hill, NC) rock, Americana, soul
– Friday. Sept. 28 at 9pm. $6, Carolina Still (Washington, NC) moonshiner stomp, country
– Friday Oct. 5 at 8pm seated show & 10pm – Do Not Miss! $10, The Barefoot Movement (Jonesborough, TN) Americana / bluegrass
– Oct 14 & 15 Three show stand! Fox Street All Stars (Denver, Co) funk
– Saturday, Oct. 27 Halloween Show, Unknown Tongues Cajun Zydeco Band!
Artist Representation: Righteous Babe Records' Hamell On Trial
Submitted by: Douglas Merrill, Broad St. Social Club, 411 Broad St., New Bern, NC, 252-288-6820