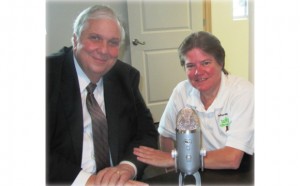 Laura Johnson had the pleasure of meeting Robert Cayton, Candidate for North Carolina House of Representatives to learn more about his goals "to build a strong Eastern NC" during her radio interview with him for WNOS 105.9FM and 1450AM:
Robert Cayton is running for the NC House, District 3, representing parts of Beaufort, Craven, and Pamlico County.
With many issues facing our state, Robert believes in confronting them head on by taking the proactive, not re-active approach!
Robert is very passionate about many issues, but it was apparent that education is one of his top priorities. Starting at grades K thru 12 as well as the community college system.
Robert Cayton stated, "K thru 12 is challenging because of the problems that public school teachers have to face". Robert believes it's vital that, "every student can read so they can move forward in all of their academic pursuits". He believes that, "the public schools need some technical training (electrician, plumber, brick layer, etc.). As we work to graduate individuals, with the ability to go on to college or into the workforce, they are prepared to face challenges".
He also is focused on the Community College system which Robert refers to as the "College of the second chance". "If you didn't do the best in high school, or your job has changed; you can upgrade your skills, or if your job no longer exists you can retrain and be prepared to enter the workforce again". Robert believes that, "the Community College system in North Carolina is one great valuable asset to preparing people for life and for jobs".
Robert Cayton believes that our Military is very important in North Carolina and we must work today to make sure MCAS Cherry Point remains open in the future for both the military and civilian employees. He says, "We must be ready when military personnel come back home. They are going to be facing many challenges. North Carolina must be prepared to help the men and women who have served our country, integrate back into society finding full and complete lives and opportunities which they have been fighting to protect".
Besides the previously stated issues, Robert is ready to deal with the many challenges facing North Carolina to include "jobs, agriculture and all businesses that serve agriculture and tourism".
Robert Cayton has been actively involved in communities in Eastern North Carolina for many years. He's served on the Beaufort County Board of Commissioners, Beaufort County Community College Board of Trustees, North Carolina Association of Community College Trustees, Highway 17 Association Board, Beaufort County Health Department Board, Beaufort County Water Board, and Barton College Board.
He's also involved in his church, local Chamber of Commerce's, Beaufort County Committee of 100, Aurora Lion's Club, Southern Albemarle Association, Beaufort Regional Home Health Board, and the Beaufort County Democratic Party.
Cayton states "I will represent all of the people in each county to ensure fair and equal representation."
Find out more about Robert Cayton by visiting his website, calling 252-943-1995, or sending him an email.
Special thanks to Robert for sharing your goals and objectives with us. We wish you the best during the upcoming election!
Tell us what you think about the Ledger by commenting below or sending us an email. You can also visit New Bern Now's Facebook page.
Wendy Card