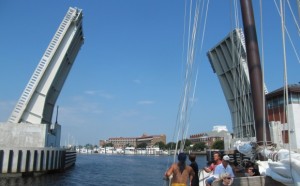 Although Swiss Bear and the New Bern Police Department work closely to insure the public's safety and security during festival week-end, one of my biggest concerns was for the safety of festival-goers as they stream across the Alfred A Cunningham Bridge.
Many people park on the James City side of the Trent River and walk across the bridge by the hundred as pedestrians along with heavy vehicular traffic. The festival also attracts many recreational boaters requiring the continual opening and closing of the bridge. The intense frequency creates a situation where pedestrians become very frustrated and between openings, get careless and take great risks, sometimes trying to jump across before the bridge is completely closed and gates opened. This is repeated throughout the two days. Although we haven't had any injuries or accidents so far, I am fearful it is just a matter of time.
With this major safety concern, I contacted NCDOT (the Bridge owner) voicing my concern to Ms. Mary Moore, Assistant Division Traffic Engineer, with a request from Swiss Bear for scheduled bridge openings festival weekend. Following up, after a conversation with Waverly Gregory, Jr., Bridge Program Manager, 5th Coast Guard District, Portsmouth, VA, requesting on the hour openings of the Alfred A Cunningham Bridge during festival hours, Saturday, October 13 and Sunday, October 14th, I submitted a written request to NCDOT.
On September 26th, I received a copy of a letter from Waverly Gregory, Jr. addressed to Ms. Mary Moore, NCDOT, responding to Swiss Bear's request to restrict the operations of the Bridge. It states, "to facilitate the free and safe movement of 83,000 attendees during the annual MUMFEST on October 13 and October 14, 2012, between 9 am and 6 pm, the drawbridge need only open on the hour."
Since the festival is just two weeks away, the challenge now is to try and get the word out so boaters are aware the Bridge openings will be scheduled on the hour festival week-end. Please help us pass the word to your boating friends and we will notify the press and area yacht clubs.
It may be a bit of an inconvenience to some; however, it would be tragic if there was a major accident on the bridge. We ask for everyone's cooperation and patience for these two days, be it pedestrians, or boaters.
Tell us what you think by commenting on Swiss Bear's Blog or Facebook page.
Submitted by: Susan Moffat Thomas, Executive Director, Swiss Bear Downtown Development Corporation, 252-638-5781