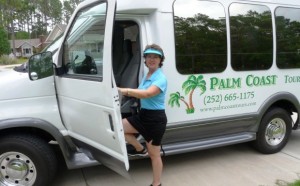 Palm Coast Tours & Outings provides regular tours and outings in their 12-passenger luxury touring coach to Historic Downtown New Bern, Oriental and Beaufort. All tours currently depart from and return to the Recreation Center in Fairfield Harbour. Their bus is also available for private charters for these tours or other special outings such as winery tours for visitors, family groups, and social groups.
Susanne Pendleton, a long-time resident of Fairfield Harbour, is the owner/operator.  She started the business this Summer and it is growing fast. The idea for the business sprouted from an unfulfilled need she recognized during conversations she had with New Bern visitors over the years. "Many visitors come from outside North Carolina with no idea of the history of this area and without any general knowledge of all there is to see and do in New Bern and the surrounding towns," says Mrs. Pendleton. It seems that our area is not that well known beyond our State's borders, but Palm Coast Tours & Outings is setting out to change that by offering these services.
Their focus is to offer family-friendly activities for New Bern visitors and residents which will introduce and familiarize them with ALL that these charming historical towns have to offer.  Passengers are shown exactly where things are located while they relax and let someone else do the driving. "We point out the quaint shops, unique restaurants, art galleries, museums, places of worship, waterfront areas, and historical points of interest while sharing local community and historical information along the way," says Mrs. Pendleton.
The Discover New Bern tour orients passengers to the historic downtown area and provides a customized map of the area so they can easily go back and explore these places at their own pace. The Afternoon in Oriental and Historic Beaufort Outings both offer tours of those towns plus opportunities for passengers to get off the bus and explore on their own during the excursion.
You can visit their website www.palmcoasttours.com for details on current tour offerings, schedules, and pricing. Reservations are required and you can reserve your seats via the website or by calling 252-665-1175. For special charter travel needs, please call.
Submitted by: Susanne Pendleton, Palm Coast Tours