Thea Kincaid and I had a fun-filled afternoon at the Masonic Theatre today! We wanted to learn about RiverTowne Players upcoming show,
Cabaret
so we met with Director Siobhan Gaestel and Linda Roach, Member-at-Large (and past Vice President).
Siobhan described Cabaret as taking place in the 1930s in Berlin during Hitler's rising to power. It's a story full of decadence, sexuality, and a lot of fun! It also highlights things that were going on during the time period.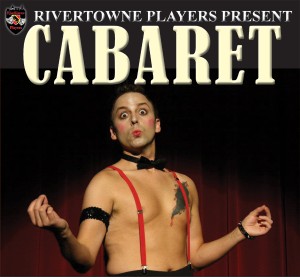 Linda and Siobhan were excited to tell us about their upcoming performance of Cabaret and finishing their 10th Anniversary Season with a bang!
We also learned that the Masonic Theatre was the oldest operating Theatre in America until the 1970s. It dates back to 1805 and played a large role during the Civil War. It was an arsenal where women made ammunition for the soldiers and after New Bern fell, it was an infirmary for Union Soldiers. There are still bullet holes in the walls!
With 207 years of history, The Masonic Theatre also has a reputation of being haunted!
Show dates:
Evenings: July 19, 20, 21, 26, 27, 28 at 8pm
Matinees: July 22 and 29 at 3pm
Tickets: $10 for students, $15 in advance, $18 at the door
The Masonic Theatre is located at 516 Hancock St. in New Bern, NC.
Get your tickets today by visiting the Craven Arts Council and Gallery, Bank of the Arts, 317 Middle St., New Bern, NC, or call 252-638-2577.
You can also purchase tickets at the door!
Find out more about Cabaret and the RiverTowne Players by visiting their website, Facebook page, or call 252-634-RTRP (7877).
Special thanks to Siobhan Gaestel and Linda Roach for telling us more about Cabaret, RiverTowne Players, and the Masonic Theatre! Great interview, Thea Kincaid, owner of Thea's Ideas promotional products!
Tell us what you think by commenting below or sending us an email. Don't forget to visit New Bern Now's Facebook page!
Wendy Card