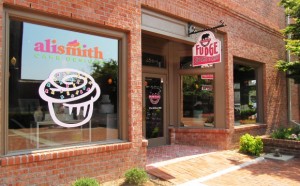 When I heard that Ali Smith Cake Design and Bear City Fudge Company have opened a second location on Trent Road, I had to stop by to learn more!
I visited Kelly Whitley, owner of Bear City Fudge Company, at the Downtown New Bern location to learn about her merger with Ali Smith, owner of Ali Smith Cake Design.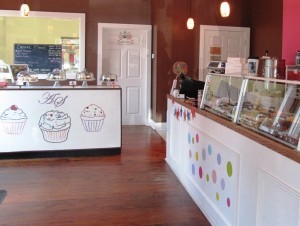 I met Ali Smith at the New Bern Farmers Market last year and was very impressed with her large variety of elegant cakes. Ali teamed up with Kelly at Bear City Fudge Company in February 2012. Working together, both businesses have taken off and decided to open another shop where Cooper's New Orleans Snowballs was located on Trent Road when Cooper's moved to Bear Plaza.
Kelly delivers her fudge to the new location and Ali delivers her cakes to the Downtown location on a daily basis. Ali also delivers to clients throughout Eastern North Carolina to include Jacksonville to the beaches.
If you have a sweet tooth or are looking for a special gift, I'm sure you'll find what you're looking for at both locations!
Enjoy the large variety of unique sweet treats to include: chocolate covered pretzels, delicious fudge (chewy praline, a variety of chocolate fudges, Heath English toffee, orange cream, vanilla, and many more), Ali Smith Cakes custom cakes to celebrate all occasions (graduation, birthday, retirement, wedding, etc.), Jelly Belly beans, chocolate, taffy, and plenty more types of confections!
They also have neat gifts, lip balms, souvenirs, party favors, stationery, and much more!
Hours of Operation:
– Downtown New Bern Shop: Wed – Thurs: 10am – 6pm; Fri – Sat: 10am – 7pm; and Sun: 12 – 4pm
– Trent Road Shop: Mon – Fri: 10am – 6pm; Sat: 10am – 2pm
Visit the Bear City Fudge Company and Ali Smith Cake Design: Downtown New Bern, 236-C Middle St., 252-636-1360, or at 2122 Trent Rd., 252-633-3144.
Special thanks to Kelly Whitley for sharing the information about your new business ventures with Ali Smith! I look forward to visiting your new location soon!
Tell us what you think by commenting below or sending an email. Don't forget to visit New Bern Now's Facebook Page!
Wendy Card