When I first heard about the New Bern Round House, I was intrigued! I had to see it firsthand so I contacted owners Andrea and Gregory Fahy for a tour.
My first impression – Wow!
The vacation home is built at least 15 feet off the ground so it kind of reminded me of a luxury tree house. A broad stairway leads you to this awesome, one of a kind, circular house.
Entering the spacious living room, you are taken aback by the natural sunlight and inviting atmosphere. They have a small library of books, board games, and a relaxing reading area.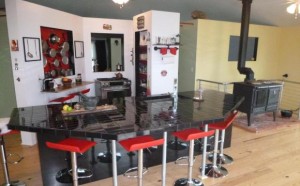 The living room extends into the fully equipped large state of the art kitchen area. The kitchen is equipped with all the comforts of home including a vast array of spices, oven, refrigerator, a wood fired stove, and other perks. They also have a grand kitchen island, perfect for entertaining guests.
The New Bern Round House is fully furnished with eco-friendly and comfortable linens! The two bedrooms are inviting and reflect a calming ambiance.
Their quaint bathroom has a beautiful bathtub that I haven't seen in years. A 20th century claw foot tub. They also have an oversized, two-person walk-in shower.
This luxury vacation home has a full sized energy efficient outdoor salt water spa.
The Neuse River is a block away and this secluded getaway is a perfect place to enjoy the view from the wraparound deck. Take a short walk to the river and catch your supper!
If you don't want to "go off the grid", you can enjoy Wi-Fi and two televisions equipped with Netflix.
Although I live in New Bern, I was so impressed with Gregory and Andrea's unique vacation home; I will be booking a premier getaway to enjoy a relaxing weekend and sitting around their  large outdoor fire pit!
The Round House was built by Deltec Homes out of Ashville, NC, known as the "original green builder". As an eco-friendly house, it has many special features to include renewable energy, natural lighting, energy saving air conditioning, ecological wood burning stove, salt water hot tub, round house design saves energy, it was built with recycled materials, and numerous other aspects.
The New Bern Round House is a perfect place for romantic escapes, family reunions, retreats, conferences, vacations, or to enjoy a special place to hideaway for a couple of days!
Visit New Bern Round House online, www.newbernroundhouse.com, to find out more about their luxury and eco-friendly vacation home! They offer special rates for the military, seniors, extended stays, and more!
They are donating a weekend getaway to the Bridgeton RiverFest Silent Auction to benefit the Bridgeton Improvement Committee (BIC). There will be a certificate on the auction table for folks to bid on! The folks in BIC are working really hard to provide some nice things for the community!
Special thanks to Gregory and Andrea for giving me the grand tour. I believe the New Bern Round House is one of the best accommodations in New Bern!
Tell us what you think by commenting below or sending an email. Don't forget to visit New Bern Now's Facebook Page.
Wendy Card