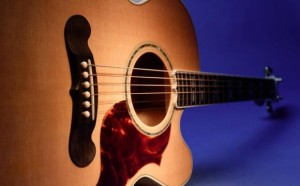 Ameranouche (pronounced uh-MARE-uh-noosh), the New Hampshire-based hot Gypsy jazz/acoustic world music trio, will be performing in New Bern June 23, highlighting material from their third CD, "Des Histoires Simples.
June 23: Broad Street Social Club, 411 Broad St New Bern NC
Doors at 8pm. Performance at 9pm.
Tickets are $10 at door.
The trio features two French acoustic Gypsy jazz guitars and upright bass, and is a winner of "Best of New Hampshire" awards, as well as being veterans of the famed Newport Jazz Festival.  The group tours nationally, year-round, and has released three albums of largely of original music inspired by the legendary Gypsy guitarist, Django Reinhardt.
"National Lampoon" film director, Kevin Wheatley, calls Ameranouche "the new sound of America".  After hearing them sail through a tune with versatile musicality, and signature, jaw-dropping velocity, you'll understand his enthusiasm.
Ameranouche has plenty of tunes to check out their take on the joyful and dance-inducing sounds of Gypsy jazz.
Ameranouche features Richard "Shepp" Sheppard on solo guitar, Zach Person on rhythm guitar, and Steve Gibson bass.
This will be a seated show. Reserve your table now by sending an email.
Artist Representation: Righteous Babe Records' Hamell On Trial
Submitted by: Douglas Merrill, Broad St. Social Club, 411 Broad St., New Bern, NC, 252-288-6820