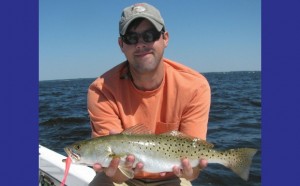 Tim Ellis joined me for a fishing trip. Tim is the head of the spotted seatrout tagging program and a PhD grad student at NC State. We've been working together for a while on his tagging program.
We had plenty of wind today (June 3, 2012), but we worked hard and got just enough cooperation to land a nice pile of fish, tagging 18 and releasing a handful more.  We missed and lost a number of fish as well…did I mention it was WINDY!  It was great to have Tim on the boat!
Spotted seatrout are one of the most popular sports fish in the South East and programs like Tim's will not only help NC manage of fish stocks but prove great information to anglers the visit our many coastal waters.
The Neuse River is experiencing some exceptional seatrout fishing this summer and anglers should be heading to the NC Coast for some fine angling! We're also catching red and black drum, flounder, gray trout, striped bass and bluefish.
Submitted by: Capt Gary Dubiel, Spec Fever Guide Service, 252-249-1520