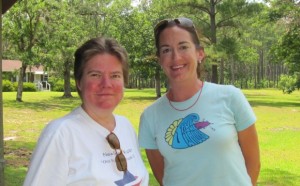 Listen to "Radio Laura" Johnson's audio (aired on Radio Free ENC's WNOS 105.9FM and 1450AM) about the upcoming events at Cool Springs:
Weyerhaeuser's Cool Springs Environmental Education Center, Askin, NC is now offering Life Long Learning Classes! On June 9th, there will be a Pine Needle Basket Weaving class taught by a local expert. The fee is $15 per/person. This will be held from 10am-2pm. Send an e-mail or call 252-514-3533 for details and to register.
We also have a Turtle Talk scheduled for June 27th from 4-5pm. There is a $5 fee for this.
On June 29th, we are offering an all day Reptile Workshop that will focus on Snakes. Contact Mike Campbell at 252-670-0090 to register or for details.
Stay tuned! We are currently planning several more upcoming classes and presentations! If you are interested in presenting a topic related to the Environment or History of the area, or would like to teach a craft that you have expertise in, please contact Melissa Patrick at 252-514-3533.
Visit them by appointment only at 949 Cool Springs Road, Askin, NC or check out their website: www.coolsprings.org.
Submitted by: Melissa Patrick, Education Coordinator, Weyerhaeuser's Cool Springs Environmental Education Center, Askin, NC
Note: Askin, NC is only 15 minutes from New Bern. – Wendy Card