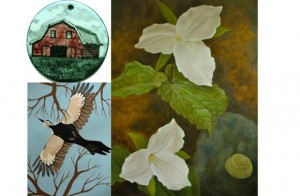 Listen to "Radio Laura" Johnson's community audio segment, aired on WNOS 105.9FM and 1450AM:
Opening June 17th, 3 – 9pm at the Broad Street Social Club, 411 Broad St., Downtown New Bern, NC. The show runs thru June 23rd.
A showing of fine art painting and enamel jewelry. Ashley will be showing the contents of her studio in Boone, NC in her home town of New Bern.
Ashley McDaniel grew up on the Neuse River just outside of downtown New Bern in the Riverside community. She showed an interest in art at an early age and has continued to practice ever since. After attending New Bern High School, she moved to Boone, NC and received her BFA at Appalachian State University in 2007 where her primary concentration was in painting and secondary in metalsmith and jewelry design. Enameling, glass fused to the surface of metal, became a passion for her that she carried on beyond her college years. She has also painted many murals for local schools and children's homes in the Watauga County area of North Carolina where she now makes her home and studio.
Live music by the Kindlies.
Visit Ashley McDaniel's website for more information.
Artist Representation: Righteous Babe Records' Hamell On Trial
Submitted by: Douglas Merrill, Broad St. Social Club, 411 Broad St., New Bern, NC, 252-288-6820, EVENTS!