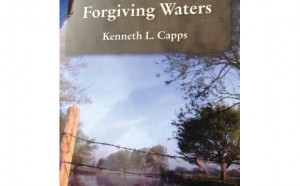 "Radio Laura" Johnson and I had the pleasure of meeting New Bern Author, Ken Capps, for an interview on Radio Free ENC's WNOS 105.9FM and 1450AM.
Listen to her interview with Author Ken Capps:
New Bern Now's supporter and friend, Corrine Corr, told us about Ken's first published book, Forgiving Waters, and we had to meet him!
Reading is my passion so I decided to read a few pages from Forgiving Waters before writing this post. A couple of pages turned into four chapters because I didn't want to put it down. When I find a book that I don't want to stop reading, I consider it a "keeper". I'm not a literary critic, but I would definitely recommend this book to my friends!
Ken Capps grew up in a small town in Texas and his parents wanted him to go to college. Instead, he joined the US Marine Corps right out of high school and defended our freedoms for 13 years. Ken took his life skills that he learned as a Marine and started a successful tree removal business in Havelock, NC, in 1993.
He "picked up the pen" when he was going through a rough period in life. Ken was angry and writing helped him cope with his problem. It gave him and outlet to think clearly and cope. Eventually the problem went away. He continued to write and his friends encouraged him to enter the New Bern Literary Symposium Contest in 2009 where he received an honorable mention. The next year, he took 2nd place. He used his entry as an outline and wrote Forgiving Waters.
Forgiving Waters received a five star review by "Readers Favorites – Named one of the best websites for authors by the Association of Independent Authors".
Meet Ken Capps at his book signing on July 13, 2012 at Port City Java during Downtown New Bern's Artwalk!
Visit www.KennethLCapps.com or www.ForgivingWaters.com to learn more about Ken Capps and purchase his book! You can also buy his book on www.Amazon.com and www.Barnesandnoble.com.
Special thanks to Ken for taking the time to talk about your new book, I'm looking forward to finishing it!
Tell us what you think by commenting below or sending us an email. You can also visit New Bern Now's Facebook Page.
Wendy Card