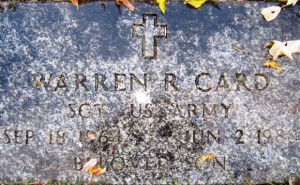 Above photo: In remembrance of my dear Brother and protector, SGT Warren R. Card, USA – Rest in Peace, War.
Special thanks to our active duty, reserve, retired, and veterans of the Armed Forces on Memorial Day.
Memorial Day was initially proclaimed in 1868 by General John Logan and was also known as Decoration Day. President Lyndon B. Johnson recognized Memorial Day in May 1966.
If you've never served in the military, you should know that we were trained to support our Chain of Command all the way up to our Commander in Chief, the President of the United States. We may not have agreed with political issues, that wasn't our calling…we followed orders.
Many of those who followed orders gave the ultimate sacrifice because they believed in their Country and did their best to fulfill their missions.
Although we no longer have a draft, young men and women are still enlisting to serve our country. They believe in making a difference and we owe it to them to provide support.
Even if you haven't served, I believe patriotism is supporting our Country's Leaders even if you don't agree with certain situations.
So many of us get wrapped up in the fun activities of a long holiday weekend, that we lose the purpose of this special remembrance day.
Please take the time to teach your children that Memorial Day is more than picnics in the park.
Feel free to comment below or send me an email.
Wendy Card