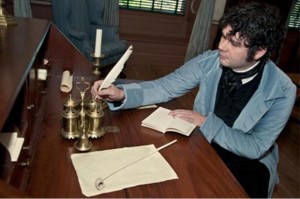 North Carolina Symphony Summer Concert at Tryon Palace – "Rhapsody in Blue"
Saturday, June 2 – Gates open at 5 pm; Concert begins at 7:30 pm
Tryon Palace South Lawn – Free admission
Pack a picnic and join your family and friends for this always popular concert on the beautiful South Lawn overlooking the Trent River.  Please bring your own chairs and blankets, but leave pets and alcoholic beverages at home.
This year's program, led by North Carolina Symphony Music Director Grant Llewellyn, includes such favorites as Leonard Bernstein's "Overture to Candide"; Percy Grainger's "Spoon River"; Scott Joplin's "The Entertainer"; Largo from Symphony No. 9 in E minor, Op. 95, "From the New World" by Antonín Dvořák; George Gershwin's ever-popular "Rhapsody in Blue" featuring Clara Yang on piano; and so much more.
The concert is free, courtesy of symphony presenting sponsor PotashCorp and statewide partner Progress Energy and is presented in the new Tryon Palace Performing Arts Series in partnership with the New Bern series of the North Carolina Symphony. Media sponsorship for the Tryon Palace Performing Arts Series is provided by Public Radio East.
Tryon Palace Theater: "Authentic Southern Charm – Francisco de Miranda in the Carolinas"
Saturdays, June 2 and June 16 – 1 pm
North Carolina History Center, Cullman Performance Hall
Venezuelan Don Francisco de Miranda — champion of Spanish-American freedom, international traveler, adventurer and Casanova — visited the Carolinas in 1783 while on the run from the Spanish government. Miranda has been called the American Casanova by scholars not only for his way with women but also because of his love affair with America, her people, and its ways and laws. This original production, based on Miranda's own diaries, provides a unique look at life in our fledgling country, from how New Bern celebrated the end of the Revolution to how citizens went along everyday life.
$6 per adult, $3 per student; free with regular admission.
Submitted by: Trish Ashburn, Marketing and Communications Manager, Tryon Palace