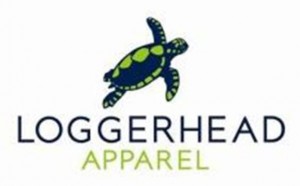 Founded by Carolina natives Zachary and Sara Painter, Loggerhead Apparel donates 10% of all revenue to regional Sea Turtle Conservation efforts.
Loggerhead Apparel, based in Greenville, South Carolina, announces its first New Bern area retailer in VashTi Fine Apparel. The company's American-grown and American-made "Bellwether Polo" launched in early 2011 and can already be found in almost 50 retailers on the East Coast, from South Florida to West Virginia.
VashTi Fine Apparel, located downtown at 218 Middle Street, will be the exclusive retail partner of Loggerhead Apparel in the area. "We're very happy to announce our partnership with Loggerhead Apparel," said owner Lynne Janyssek. "So many in New Bern appreciate the importance of American manufacturing, as well as protecting our coastal wildlife, so we expect this to be a great fit."
Loggerhead Apparel donates 10% of all sales, not profits but sales, to regional Sea Turtle Conservation efforts, and has committed over $15,000 in the last year to groups in the Carolinas, Florida, Texas and California, including the South Carolina Aquarium, Sea Turtle Conservatory, SEWEE Association and Sea Turtle Restoration Project.
The company's signature product, the Bellwether Polo, is constructed of 100% American-grown Pima Cotton. The majority of the manufacturing takes place in several independently-owned facilities in South Carolina, with over 100 years of combined experience in the textile and apparel industries.
"Like the Loggerhead, the textile and manufacturing jobs in the South have been declining in significant numbers over the past generation." explains Founder Zac Painter. "The textile industry is all but gone, much like the furniture industry of North Carolina and the automobile industry of Michigan. Loggerhead Apparel's mission is to bring attention, and much needed funding, to both."
"We're honored to be bringing our products to VashTi and New Bern," says Zac's Co-Founder (and wife) Sara Painter, "and we look forward to a long relationship with the community."
For more information on Loggerhead Apparel, please visit www.LoggerheadApparel.com or follow on Facebook at www.facebook.com/LoggerheadApparel.
About Loggerhead Apparel
Loggerhead Apparel provides premium, American-grown, American-made clothing and accessories. The concept was born in early 2009 in the minds of two South Carolina natives. One a product of the Lowcountry, who grew up on the coast just north of Charleston, the other a product of the Upstate, the grandchild of mill workers in the textile town of Spartanburg. Their passion and pride for the state of South Carolina, its people and its beauty, its wildlife and its economy, led to Loggerhead Apparel.
Submitted by: Zachary Painter, Founder and President, Loggerhead Apparel, 864-431-6207