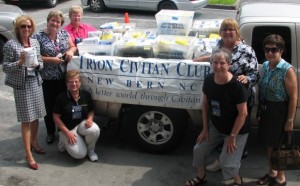 The Tryon Civitan Club, in conjunction with The UPS Store is sponsoring their Fifth Annual Sugar Drive to benefit Religious Community Services.
The Sugar Drive will last the entire month of June.
Between providing sugar to people through their Food Pantry and in the beverages served in their Soup Kitchen, RCS uses an estimated 2500 pounds of sugar each month. With the support of our community, last year we delivered 1,907 pounds of sugar to RCS and we hope to be able to deliver even more this year!
Sugar can be dropped off at The UPS Store, 1822 South Glenburnie Rd (across the street from the Post Office) between 8:00 am and 6:00 pm Monday through Friday and from 8:00 am to 3:00 pm on Saturdays.
For more information, please contact Mack Paul, Tryon Civitan Project Chairman, at 252-637-7500.
Submitted by: Pat Drake, Publicity Chair, Tryon Civitan Club