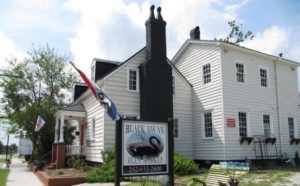 When repeatedly asked if I've visited the Black Swan Flea Market in New Bern, I said no. There was always a meeting or something more pressing. I finally made it a point to check it out and I'm very happy that I stopped in last week!
Meeting Irene Magness, the Sole Proprietor, was a fun-filled and educational experience for me! Her travels and experiences have molded her into a one of a kind and a very down to Earth lady!
It was also a pleasure meeting five of her patrons that came in while I was visiting. I met a nice couple from Connecticut who reside in Fairfield Harbour. Three more visitors came in while I was browsing this fascinating shop.
The shining star behind this story is Irene. I believe her upbeat personality, hospitality, and hotchpotch of unique relics will keep visitors coming back time and time again!
When I asked Irene where she came upon the ménage of contents that are displayed throughout the rooms of this large building, she told me that she collected them throughout her life. She mentioned that one of her friends considered the shop "Eclectic".
Eclectic is an understatement! Not only is the building a historical landmark, built in the 1820's with an addition built in 1910, but its contents outline Irene's travels throughout the United States and Abroad. One may consider it a diary of collectibles! Each piece of merchandise has a unique story and history to Irene and anyone who owned the items before she selected these treasures!
Irene has an eye for revitalizing certain furnishings. Some should remain in their original condition, but she paints others to create a new life for the special piece. Consider her passion a "form of recycling for others to appreciate".
I could not do justice by writing about all of the diverse treasures you can find at the Black Swan Flea Market, but I'll try to give you an idea of what you may find.
Here are some things that stuck in my mind: antique coins; old fashioned kitchenware and china; paintings; photographs; antique frames; clocks; lamps; crystal ware; furniture; books; decorative items; rugs; oriental furnishings; dolls; handmade crafts; stained glass; vinyl records (especially Elvis); water fountains; jewelry; military and civic organization pins and memorabilia; Hummel decorations; steins; oil lamps; and a number of other unique and fashionable items!
If you're not happy with your purchase, Irene will take returns and refund your money.
The Black Swan Flea Market is located at 1310 Broad Street, 252-633-2600, open Monday – Saturday from 10am – 5pm.
Thank you, Irene, for taking the time to share your stories with me! I hope people enjoy your Black Swan Flea Market as much as I did!
Wendy Card