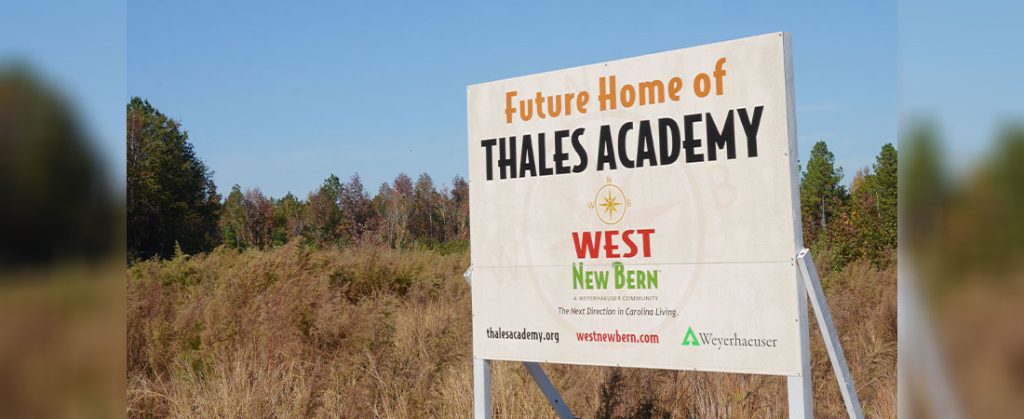 Plans for the opening of a new private school that was announced last year for the West New Bern community have been pushed back, according to a school representative.
In July 2022, Thales Academy announced that it planned to open a campus on 8.86 acres of land in West New Bern, the Weyerhaeuser residential and commercial development on NC 43 just north of US 70.
Plans for the school were approved by the New Bern Planning and Zoning Board in April 2022.
At the time of the announcement, the school said it planned to open the new campus, Thales Academy New Bern, in July 2025, and begin accepting applications for the inaugural year in September 2024.
According to the announcement, the plan called for Thales Academy New Bern to initially offer grades Pre-K–3 and then add a grade each year until it became a kindergarten through eighth-grade campus.
But while the Thales Academy website still lists the new location as "coming soon," according to the school's head of Marketing and Development, Kelly Ellis, Thales Academy New Bern will not be opening for the 2025–26 school year. 
In response to emailed question submitted by New Bern Now regarding the school's start date for construction, application process and planned student capacity, Ellis wrote, "At this time, the only information I have to share is: The current plan is to evaluate this campus in spring 2024 for a 2026–2027 school year opening, so we will not be opening Thales Academy New Bern for the 2025–2026 school year."
Ellis wrote that more information should be available after the spring evaluation.
According to the 2022 press release, Thales Academy New Bern will be open to all students and will not be limited to West New Bern residents.
"We are honored to have the opportunity to bring our high quality, affordable private school education model to the New Bern community," Bob Luddy, founder and chairman of Thales Academy, said at the time. "We pride ourselves on offering a rigorous, classical education that incorporates character formation in all grades and maintains affordable tuition. We are thrilled to share Thales Academy with families in eastern North Carolina."
Founded in 2007, Thales Academy currently operates 14 campuses across three states, including 11 in North Carolina, that instruct 6,000 students. 
The school's tuition rates vary by campus location and grade levels, ranging from around $5,000 to just over $6,000 per year, with scholarships and payment plans available.
By Todd Wetherington, co-editor. Send an email with questions or comments.