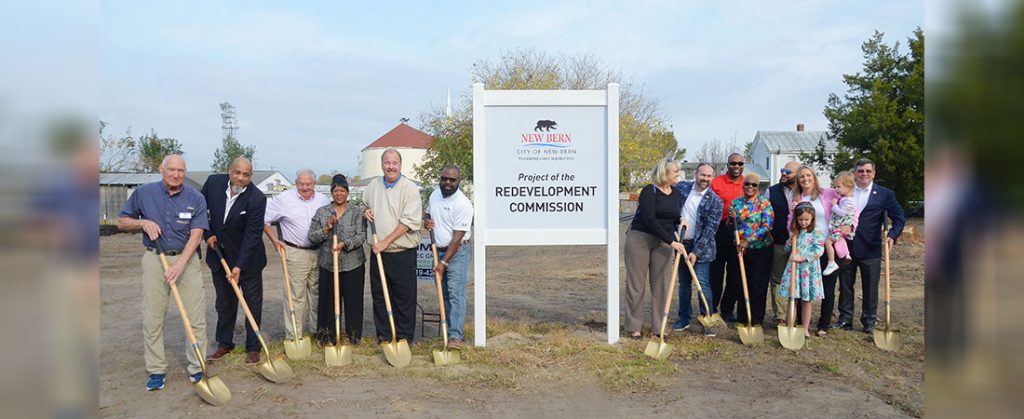 City of New Bern officials were on hand Friday morning at the official groundbreaking for a new housing development that will be located on joined lots at the corner of Walt Bellamy Drive and Jones Street. 
The New Bern Redevelopment Commission's Walt Drive Bellamy Project calls for the construction of three new, single-family homes on the property for sale to low to moderate income families. The homes will feature two bedrooms, one bathroom and a covered front porch with either a concrete or covered patio in back.
At their October 11 meeting, the RDC approved three bids totaling $425,000 from IMEC Group of Goldsboro to build the three homes, which will measure 800 square feet, 896 square feet, and 792 square feet. 
Clearing of the property began last week. According to George Ward, project manager with IMEC Group, construction should take around 90 days, with a scheduled February completion date. 
"While it doesn't look like much but a bunch of dirt this is the culmination of five years of work," said RDC Executive Director Zeb Hough. "It is just the beginning and the best is yet to come. The Redevelopment Commission is serious about the work that we're doing and we're serious about getting to work on a lot of other projects."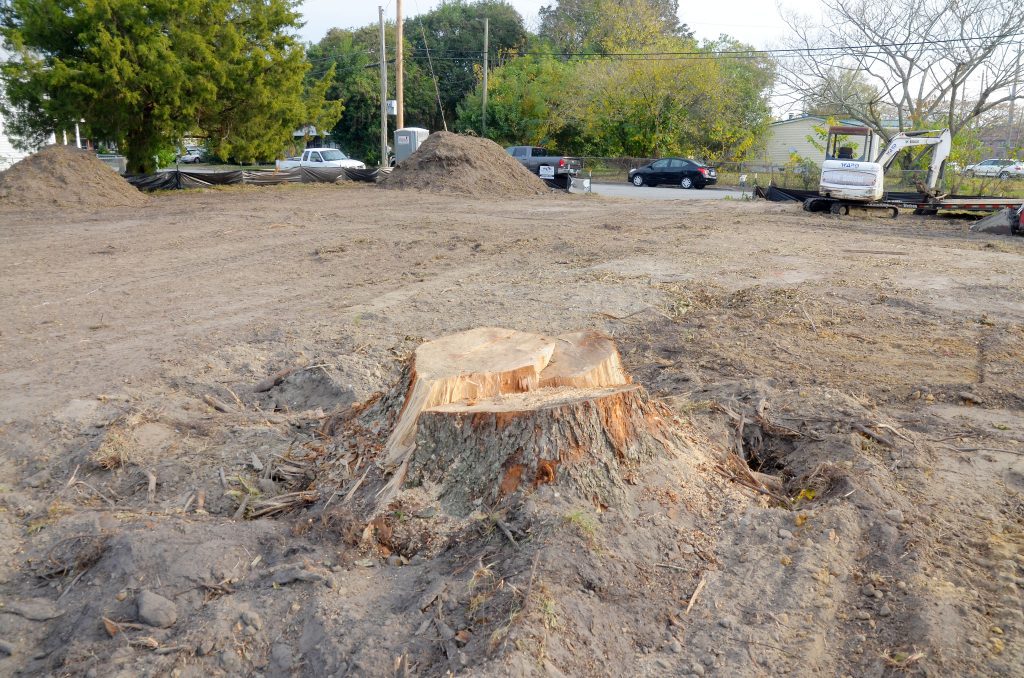 The lots for the homes were purchased by the RDC in 2021 for $38,000. Plans to develop the property moved forward in January when Ward 3 Alderman Bobby Aster said plans to build rental units on the lots had been shared with a general contractor, who came back with a price tag of approximately $500,000. Though the commission initially developed plans to build those rental units, they were derailed after Assistant City Attorney Jaimee Bullock-Mosley revealed in March that the RDC is only allowed to lease property on a temporary basis.
Instead, the RDC requested $547,000 of American Rescue Plan funds from the City to develop three small, two-bedroom homes on the Walt Bellamy Drive/Jones Street property. The New Bern Board of Aldermen unanimously approved the money for the project.
In June the RDC directed the Board of Aldermen to take over the initial bidding process for the planned housing development.
"I'm happy that we have figured out somehow how to give back, to help the community," Alderman Bob Brinson commented Friday. "And when I say the community, I mean the greater New Bern community not just the redevelopment area. Helping one really helps us all."
Brinson said he would like to see more projects in New Bern like the Walt Bellamy Drive housing development. 
"I don't want the people who grew up here to get priced out and have to leave," he said. "That was my comment when we were talking about tax rates. If you're not careful you're going to price the people out that grew up for generations here and you're going to lose the character of New Bern. You're not going to realize it until it's gone."
By Todd Wetherington, co-editor. Send an email with questions or comments.