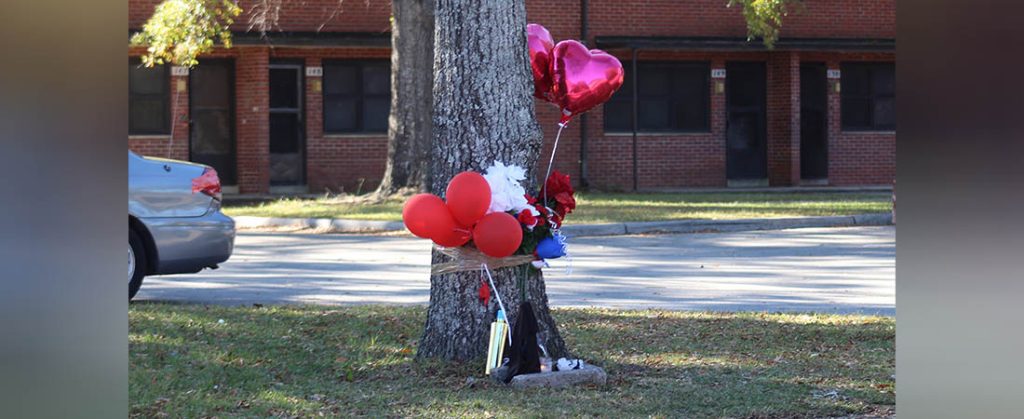 A New Bern man is dead following a shooting at the Trent Court apartment complex on Nov. 2.
New Bern Police Officers were dispatched to a shots fired call near the P building in Trent Court at 3:48 p.m. They found Devaughn D. Bryant, 28, with an apparent gunshot wound. He was transported to CarolinaEast Medical Center where he succumbed to his injuries Thursday night.
The Criminal Investigative Unit are investigating the shooting as a homicide, according to a NBPD press release. The release stated that based on an early assessment of the evidence gathered and statements obtained, there is no threat to the public at this time.
A temporary memorial was on display Friday where friends and family gathered to remember Bryant.
New Bern Now spoke with friends of Bryant. One person said he was, "The type of guy if you met him, you got attached to him. He had a great personality. The kids in the community loved him. He got along with everybody." The friend said, "It happened when the kids got off the bus…everybody came out of their apartments, even the elderly. They were really upset and disappointed…We have a pretty good neighborhood. It's not a dangerous neighborhood."
Another friend, Zoe Simmons, remembered Devaughn Bryant as, "A nice young man. He was a people's person who never met a stranger."
Simmons said she can relate to the situation as her nephew, Matthew "Shaggy" Smalls, "was killed practically the same way," three years ago on August 26, 2020. On July 13, 2021, the NBPD announced three suspects were arrested in connection with the homicide that occurred at the 1200 Block of Broad Street: Jarvis Everett, Jamelle Everett and Tarvis Everett.
Anyone with information about the shooting is asked to call the CIU at 252-672-4253. Citizens who wish to remain anonymous can use the Tip411 system by texting the key words NBPDTIP with the tip to 847411. Citizens can contact Craven County Crime Stopper line at 252-633-5141. Contact Lieutenant Donald McInnis for more information at 252-672-4274.
By Todd Wetherington and Wendy Card, co-editors. Send an email with questions or comments.