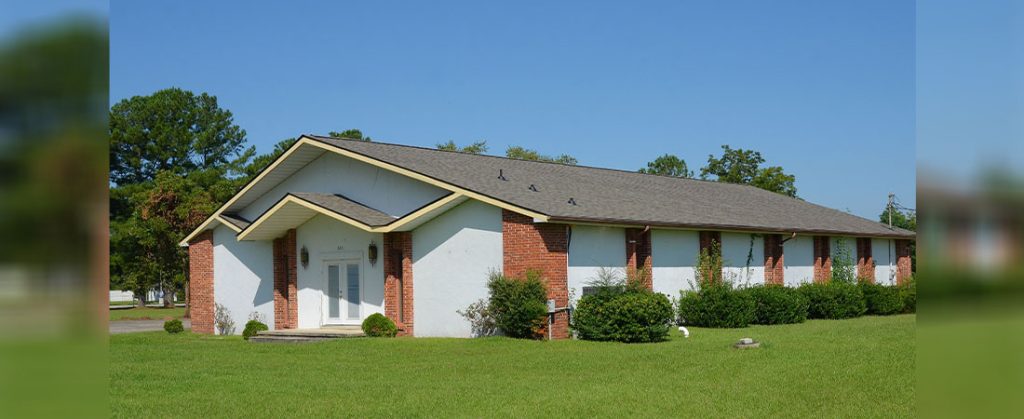 A former church located in New Bern has been chosen as the site for the new Eastern North Carolina (ENC) Tech Bridge. When completed the facility will allow Fleet Readiness Center East (FRC East) to engage with small businesses, academia, nonprofits, and other organizations outside of Marine Corps Air Station Cherry Point.
During the Craven County Board of Commissioners' September 18 meeting, Economic Development Director Jeff Wood announced that the county has been awarded a contract of up to $516,048 to build out a former church at 634 Airport Road as a facility for the ENC Tech Bridge and companies that want to collaborate.
Tech Bridges are designed to bridge the gap between the Navy and entities ranging from startups and small businesses to academia, nonprofits, and private capital companies that aren't traditionally part of the Navy's development and acquisition process.
The Department of the Navy's Naval Agility Office (NavalX) spearheads the Tech Bridge initiative, with the goal of rapidly delivering innovative capabilities to service members across the globe.
Wood said the retrofitted church building, which is currently owned by Coastal Carolina Regional Airport, will be an area where businesses can set up office space.
"Imagine there being a problem that the Navy knows that they have, FRC knows that they have and they need a technical solution and a company, maybe one they've never worked with before, particularly a small business, says 'Hey I've got that solution," said Wood, explaining the importance of the new collaboration.  
"This gives them a facility they can go to to demonstrate their service, their product, whatever that solution is," Wood continued, "and if it's something that's successful and does solve that problem you can fast track them to be able to work with FRC to get whatever our defenders need to protect the country. It's a very exciting program."
The Tech Bridge was awarded to FRC East in 2021, largely based on a partnership agreement with Craven County that allows the county and the Department of Defense to have "transactional relationships" directly with each other, Wood noted. 
FRC East is the Navy's aviation repair and maintenance facility at MCAS Cherry Point. It is the largest industrial employer east of I-95, with approximately 4,000 military, civilian and contract workers.
"FRC East is growing, we know that. They are on a trajectory to win a lot of contracts in the future because of how great a partner they are," Wood said. 
According to Wood there are currently 20 Tech Bridges around the world. The ENC Tech Bridge was officially launched in November 2021 with the goal of solving difficult challenges faced by the Navy and Marine Corps.  In January 2022 the county held a kickoff ceremony that featured Secretary of the Navy Carlos Del Toro.
Wood said under the agreement with Department of the Navy the county will also provide planning for activities such as industry showcase events and industry/academia symposiums; assist in establishing relationships with universities on engineering projects; and assist in working with the school systems to provide opportunities with teachers to collaborate with FRC East and provide information to their classes. 
Most importantly, Wood said the ENC Tech Bridge would act as a business magnet, allowing new companies to come into the area.
"I'm personally very excited about this because it is going to allow me as your economic developer to get in front of a lot of defense industry companies and be able to say how important it would be for them to look at us to establish permanent facilities near FRC East," he commented.
By Todd Wetherington, co-editor. Send an email with questions or comments.