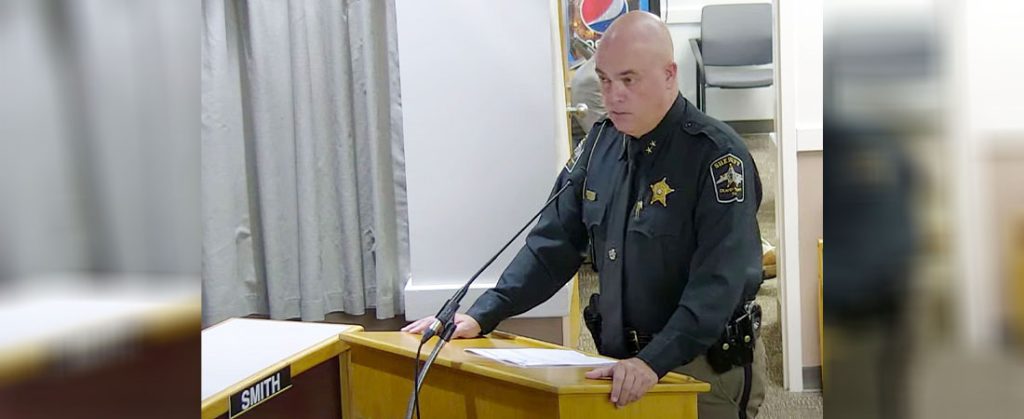 The Craven County Board of Commissioners have approved funding for a second resource officer at West Craven High School. The move comes as law enforcement has reported a surge in gang related violence at the school.
Craven County Sheriff Chip Hughes said a second SRO was needed at West Craven High due to the increase in calls from the school reporting fights, "many of them dangerous at times to our students, faculty and staff and my personnel."
Hughes said so far this year officers have responded to at least six incidents at the school involving fights with between six to eight students at one time.
"Our call volume is much higher than it has been in previous years," he said.
The item calling for the new school resource officer was not originally included in the board's agenda for its September 18 meeting but was added at the request of Board Chairman Jason Jones.
Jones said he had been approached by Board of Education Chairman Brent Manning and Vice Chairman Scott Murphy, who asked that commissioners consider the second SRO position. Jones admitted it was "unprecedented" to have these kinds of discussions so soon after approving the county's fiscal year budget but said he felt it was justified in this case.
The board approved a budget amendment in the amount of $153,000 to fund the new SRO position at West Craven High, a cost that includes salary as well as one time expenditures such as training and equipment.  
Asked what was causing the increase in violent episodes at West Craven High, Hughes responded, "It's gang related. We have gangs in all of our high schools and in many of our middle schools. Some of this has spilled over from last year at West Craven Middle and its spilled over to the high school. It's worse now than it has ever been."
Hughes said SROs also have also responded to violence on school buses.
"It's a close, confined area and tensions are high and it causes a number of problems," he said. "This additional SRO out there will give us a better insight into what's going on and we'll be able to cover more territory." 
According to Hughes, West Craven High Principal Montrell Lee has been assaulted when trying to break up fights at the school. He said having one SRO at area high schools is "just not acceptable."
"You cannot perform the job we need to and protect such large real estate with so many children and staff members there, we can't do it adequately," he told commissioners.
Hughes said he was aware that some of the incidents had led to long term suspensions for students, some of whom have been criminally charged. 
"We've got to send a message that this will not be tolerated and accepted at our schools," he stated.
Hughes said West Craven High's rural location makes it difficult for officers to respond in a timely fashion to calls. He said he was not only concerned with the safety of students and staff but his own officers "that are clearly outnumbered in these situations."
"We must have two SROs in all of our high schools," Hughes stated. "We also have other schools that need them as well, unfortunately our middle schools. West Craven Middle School and HJ MacDonald need two SROs."
Hughes said he already has two qualified applicants from other agencies that are interested in the West Craven SRO position. 
"The turnaround time to fill this position shouldn't be long," he told commissioners.
By Todd Wetherington, co-editor. Send an email with questions or comments.