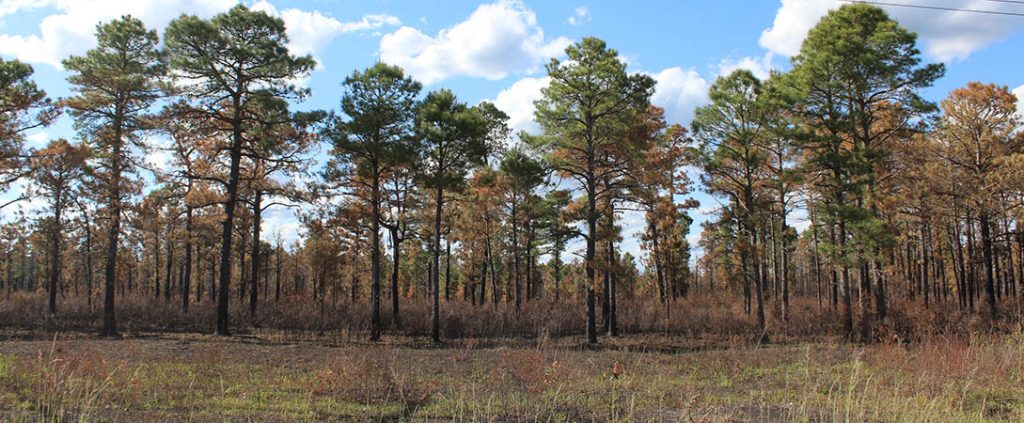 The N.C. Type III team issued its final update about the Great Lakes Fire the started in the Croatan National Forest on April 19. The wildfire continues to burn vertically down with 90% containment. In a press release, they announced the Croatan Ranger District will take place on May 29 and will return to their home units. Incident Commander David McFee stated, "We deeply appreciate the cooperation, patience and support the community has demonstrated during this incident – it has been outstanding, and we sincerely thank you!"
They also noted, "After the transition, aviation and ground resources will continue to monitor fire activity to identify hot spots and any areas of concern and crews and equipment will continue their efforts in rehabilitation and repair work to minimize impacts associated with suppression activities."
The incident team noted the amount of personnel and equipment: 80 personnel, one helicopter, three engines, one water tender and two tractor plow.
They cautioned, "Please be aware: Wildland fire engines and other equipment continue to be on roads in the fire area and on US Hwy 70 between Havelock and New Bern. Please use caution when driving near them."
The release also stated roadwork is underway for FS 203 – Holston Creek Road, FS 134 – Holston Hunter Trail, FS 606 – Mattocks Road, FS 3070 – Cow Pond Road, FS 121 -1 – North Little Road, FS 163 – Belangia Road, FS 121- 2 – Middle Little Road, FS 126 – Holston Hunter Road, FS 158 – Catfish Lake Farm Road and FS 172 – Mirey Branch Road. Roadwork is expected to continue for several months. Forest Service Road 174 (Seaborn Road), and Forest Service Road 126 (Great Lake Road) remain closed due to fire equipment and operations.
Photos taken after the wildfire burned 32,156 acres:
By Wendy Card, co-editor, Send an email with questions or comments.