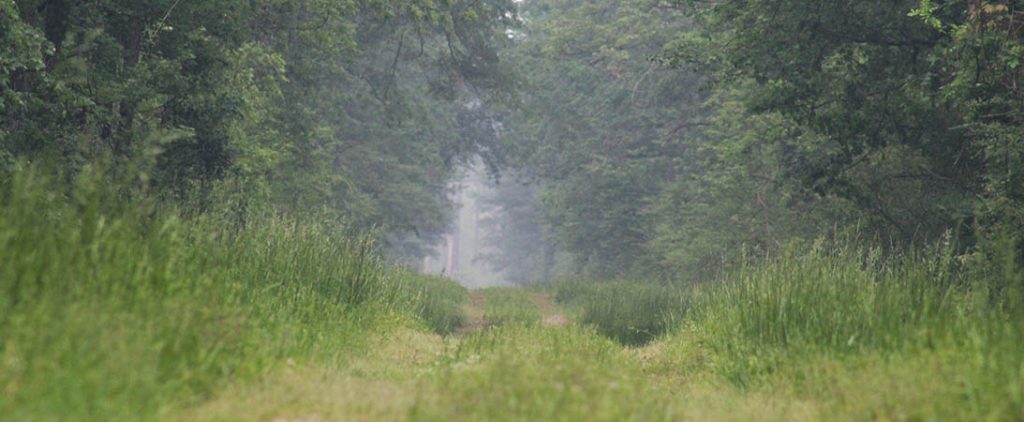 The wildfire that started in the Great Lake area in the Croatan National Forest on April 19 is still burning. It's not a surface fire, instead it's burning vertically deep into the ground. It was contained at 30% on April 27 and contained at 63% on May 2.
The Great Lakes Fire unified command incident management team held a community meeting on April 28 at Creekside Elementary School.
The unified command, a type I incident management team, was mobilized to the area to manage the wildfire on April 21 and is comprised of federal, state, and local entities, and have different values at risk. The Southern Area Gray Team took over management today.
Here's what unfolded during the community meeting followed by today's update:
Carrie McCullen, a public information officer facilitated the hourlong in-person and virtual event.
McCullen introduced Agency Administrator Tommy Sports for the N.C. Forest Service. He explained, "fires like this that burn into the ground, it's up to a lot of factors. One of those being the amount of precipitation." He said it could take far into the summer before the fire is fully contained.
Incident Meteorologist Scott Kennedy for the National Weather Service in Newport said he predicted weather for their fire behavior analyst. Kennedy said last year's hurricane season has resulted in a deficit of precipitation.
The next speaker, Fire Behavior Analyst Mike Couch, said he takes Kennedy's information along with what he, "sees on the ground from a fuels perspective and try to predict…how intense the fire is going to burn and where is it going to go."
When referring to fuels, it's important to note the Croatan National Forest has a pocosin ecosystem. It's like a sponge, it soaks up water and it also dries out. Although the wildfire stopped spreading laterally at 32,400 acres, it's still burning deep into the ground. Some team members reported as far as 15 feet underground.
McCullen introduced Air Quality Resource Advisor John Pendergrast for the NWS. He talked about smoke forecasting stating, "Any combustion puts up into the atmosphere fine particulates and they are very small and very unhealthy for our lungs." He continued, "those very fine particulates can get ushered well into our airways and into our lungs and cause health issues especially for people with asthma, children the elderly" and others.
Next up was Shawn Nagle, one of the operations section chiefs for the Southern Area Interagency Incident Management Red Team. Nagle said the C.N.F. and N.C.F.S. give him and his fellow chiefs goals and objectives for the fire. The chiefs digest the information and create tactics, then they "implement those tactics in the field, order resources, monitor our progress." Nagle emphasized, "The fire is not out…it's burning down deep below. It's burning vertically down." He said they have been using airplanes and drones and other tools to help identify hot spots.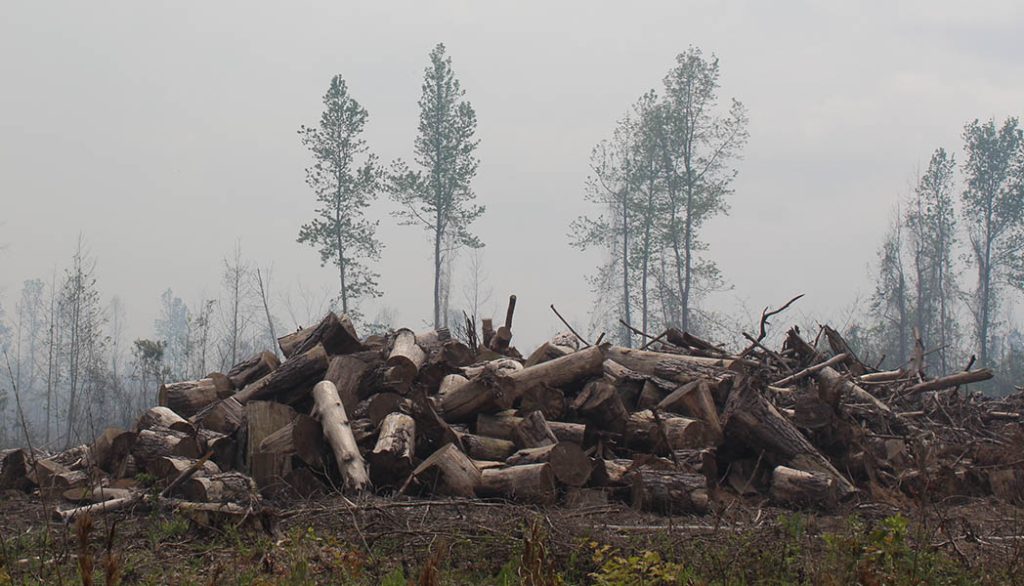 Nagle told the group they are aware of residential areas, stating their intent is to keep the fire within the forest boundaries. He also mentioned preventing the fire from spreading to Weyerhaeuser and other private timberland. He said, "In a month, if it dries out and this does kick back again, we have those contingency lines in there."
Contingency lines are backup lines to the primary fire line also known as fuel breaks. Creating the backup lines increase the probability for containing wildfires.
Incident Commander Shane Hardy for the N.C.F.S. stated they are taking actions to create a "defensible line to go and try to stop this fire before it's in your backyard." He said they had no idea whether the fire would move again as everything is dependent on the weather. Hardy also explained the fire is entering a phase where the type 1 incident team will be transitioning to another team with a smaller footprint.
Emergency Services Assistant Director Ira Whitford for Craven County said the county has a code red system that people can sign up for along with IPAWS in case of a real emergency. Someone asked, "Sir, I did not receive anything." And Whitford responded, "We didn't put nothing out."
According to the Integrated Public Alert & Warning System's website, IPAWS "is FEMA's national system for local alerting that provides authenticated emergency and life-saving information to the public through mobile phones using Wireless Emergency Alerts, to radio and television via the Emergency Alert System, and on the National Oceanic and Atmospheric Administration's Weather Radio."
Although Emergency Services Director Stanley Kite for Craven County spoke during the meeting, New Bern Now caught up with him for clarification on his comments. He explained that he works with a control group comprised of local managers and elected officials stating, "We're constantly coordinating on this particular scenario." Kite has the authority to declare an evacuation order. He explained an evacuation for a fire is different than a hurricane, saying, "some events we have 24-hour notice. Some events we have 36-hour notice. When referring to the fire he indicated residents would have a two-hour window for notification of an evacuation. He stated, "When it comes to that, it's not about convenience, it's about life safety and property safety." Kite told NBN that Craven County has procedures with alerts and warnings, where to go and who needs to go. They also have an evacuation plan to include opening and running shelters 24 hours a day and helping residents who need assistance.
Kite asked for the public to become a partner by being prepared with a kit and checklist. He said, "People should have a home evacuation kit and be ready to go at notice, 365 days a year. He recommended using Ready.gov as a resource. He said, if required, they will transport residents in need by CARTS, school buses, fire trucks, law enforcement vehicles, etc. Kite urged residents living in high-risk areas to visit Firewise.com to reduce the risk of fire at home.
For detailed information, watch the video from the community meeting:
The unified command issued the following press release on May 2:
The Southern Area Gray Team took over management of the Great Lakes Fire at 8 a.m. this morning.  The Gray Team is a Type III team with a smaller organization structure. The condition of the fire has allowed for a smaller organization. Firefighters continue to be on the firelines to patrol, monitor, and eliminate any heat sources that may come up during the current drying trend this week. Accumulated rainfall totals from passing storms have significantly aided firefighting efforts. The primary object for the Gray Team is public and firefighter safety. Please be aware that while some of the wildland resources, including personnel and engines, have been released from this incident, there are still personnel and equipment travelling the roads in the area. Please use caution when driving near them.
Acreage: 32,400 acres Containment: 63%
Personnel and Equipment: 203 total personnel; 2 helicopters, 7 Type-6 engines, 2 Type-2 and 3 Type-3 tractor plow units, 1 drone, 1 fixed wing aircraft, 1 grader, 1 excavator and 1 ambulance.
Sunny, dry and windy conditions are expected today and through midweek with temperatures in the 70's, relative humidity around 20% and wind gusts of 25 to 30 mph. Drying conditions are expected to continue and crews continue to patrol for any hidden heat sources that may ignite ground fuels.
Today, work around the fire consists mainly of patrolling and monitoring for heat sources with the aid of drone mounted infrared equipment to locate those heat sources.  The predicted weather conditions will actually help firefighters on the ground to quickly deal with any hidden heat sources revealed by the presence of smoke. Focus will be on the Great Lakes Road primarily in the southeast portion of the fireline, and Black Swamp Road in the southwest portion of the fire.
Yesterday firefighters continued to patrol and monitor the fire, mop up along Black Swamp Road and road crews continued to gravel Mattocks Road.
Air quality: Information on current air quality data for North Carolina is at airnow.gov.
Closures: Road closures on County Line Road and Catfish Lake Road remain in effect. Forest Service Road 203 is also closed due to fire operations. Updates to road closures surrounding the fire is at drivenc.gov.
The Temporary Flight Restriction (TFR) in place over the fire area has changed in that the hours of the restriction are now between 6 a.m. to midnight. Information is at the Federal Aviation Administration website. A flight restriction is necessary to protect aerial firefighting operations. If there are intrusions into the Temporary Flight Restrictions, we must stop aerial operations.
We have had many offers of donations to firefighters. We are grateful for your support, but currently do not have the capacity for processing and storing donations on site. In lieu of donations to the Great Lakes Fire please consider making a monetary donation to the Wildland Firefighter Foundation.
For Great Lakes Fire information, call 252-285-6174 or visit Inciweb: Ncncf Great Lakes Information | InciWeb (nwcg.gov) and Facebook: U.S. Forest Service – National Forests in North Carolina.
By Wendy Card, co-editor. Send an email with comments or questions.