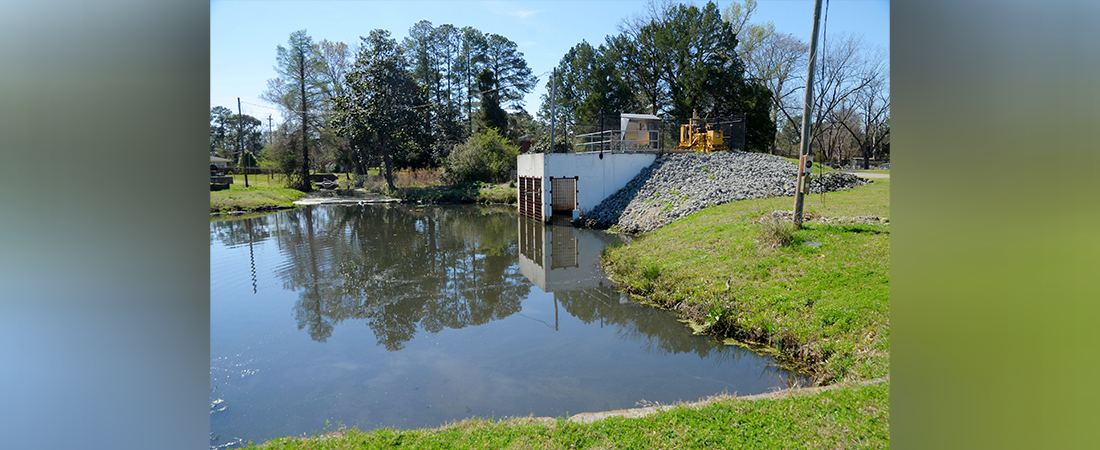 Promise after failed promise. 
That's how Anne Schout describes the years of setbacks, flooding and general negligence that have led many residents of New Bern's Duffyfield community to cast a skeptical eye towards any sign that help, from the city or outside entities, might finally be on the way.
As chairman of the Duffyfield Phoenix Project, Schout has seen the impact of those failed promises firsthand. Since 2017, the nonprofit has advocated for improvements in the physical surroundings and quality of life for residents in the historically Black neighborhood, organizing annual cleanups and home repair projects.
"Duffyfield residents have been promised the moon and gotten nothing and they're very, very, very skeptical of anybody that comes in from the outside to try and do something," Schout commented. "I think the other problem is people in the past who have come into Duffyfield to help, instead of listening to the people and what they want have gone, 'Oh, we're going to do this, this and this,' and then it never happens. So, their attitude is they'll believe it when they see it and rightly so."
With the city of New Bern's recent announcement of nearly $7 million in funding for stormwater upgrades, however, Schout said she believes small but crucial steps are being taken to finally address an area that has been underserved for decades. 
Recent grants from the NC Department of Public Safety/NC Emergency Management and NC Department of Environmental Quality have brought the city's budget for the ongoing Duffyfield Stormwater Enhancement Project to $6.7 million for construction and $400,000 for planning, according to City Manager Foster Hughes.
The grants will be used to fund work which includes upgrades to the Biddle Street Pump Station and the installation of stormwater pipe from Biddle Street to culverts near the retention pond on East Rose Street. A new stilling well is also scheduled to be installed near the culverts on East Rose Street.
The grant funds will be used to complete future phases of the project as well, including the construction of retention ponds on city-owned and FEMA-acquired properties that will flow into the Biddle Street pump station. 
Schout said she was glad to see the upgrades to the East Rose area, which runs into the Duffyfield Canal and eventually into the Jack Smith Creek wetlands.
"We're getting a third of Duffyfield taken care of," she commented. "Nothing's going to take care of it for hurricanes, it's just too low. But I think what the city is doing is good. If we can solve any of the water problems in Duffyfield, that's a major step forward."
In addition to the stormwater projects, Duffyfield is also benefiting from the Phoenix Project's work to repair owner-occupied houses throughout the community. Like the city, the nonprofit is relying in part on grants to fund the improvements. 
According to John Schout, Anne's husband and the Phoenix Project's treasurer, the group looked at every property in Duffyfield to determine whether it had a house or trailer on it. He said it was "frightening" how few home owners live in the area. 
"Of the 1,400 lots and 700 houses we looked at only 20% are owner-occupied," he noted. 
Phoenix Project board member Terre Holloway is responsible for coordinating local contractors hired to do critical repairs on Duffyfield homes that have been severely damaged by decades of storms, poverty and neglect. Money for the projects comes from grants as well as donations.
The group focuses on the most urgently needed repairs that fall within its $2,500 per project budget. 
The recipients are chosen through applications which are reviewed and approved by the Phoenix Project's ten-member board. To date, the group has repaired approximately 30 homes for Duffyfield residents. With the recent addition of grants from the city and state, the Schouts said they hope to expand the program in the near future. 
"We really have the capability of doing bigger things now," John said. "Our game has stepped up."
Both Anne and John said the Phoenix Project would like to start a transportation program for Duffyfield residents and are investigating ways to purchase a van. 
"To be able to take people where they're not reliant on a bicycle or CARTS. Be able to take them to the grocery store, to the pharmacy, to the doctor's office or wherever they need to go," Anne said. "That would be a real boon to Duffyfield."
The Phoenix Project's twice-annual Duffyfield cleanup is beginning to draw more support from community members, the Schouts said. They pointed out that, to a large degree, the community's trash problems come from outside residents using the area as a garbage dump.
"A lot of Duffyfield's trash is not from the Duffyfield residents, it's from people riding through and cleaning their cars out," Anne said. "It's also from unscrupulous…I'm not even going to call them contractors but unscrupulous people who do repair work. They come in the middle of the night and unload their trucks and there will be pieces of wood and drywall and insulation."
That disregard, she said, underscores the view of Duffyfield in many people's eyes as a place cut off from the day-to-day reality of the surrounding city. 
"People tend to look at underserved areas like this and say, 'I'm not going in there, I'm not going to have anything to do with it,'" she said. "So, they don't know what's going on in there, they've never ridden through it and they don't know anything of the people."
By Todd Wetherington, co-editor. Send an email with questions or comments.