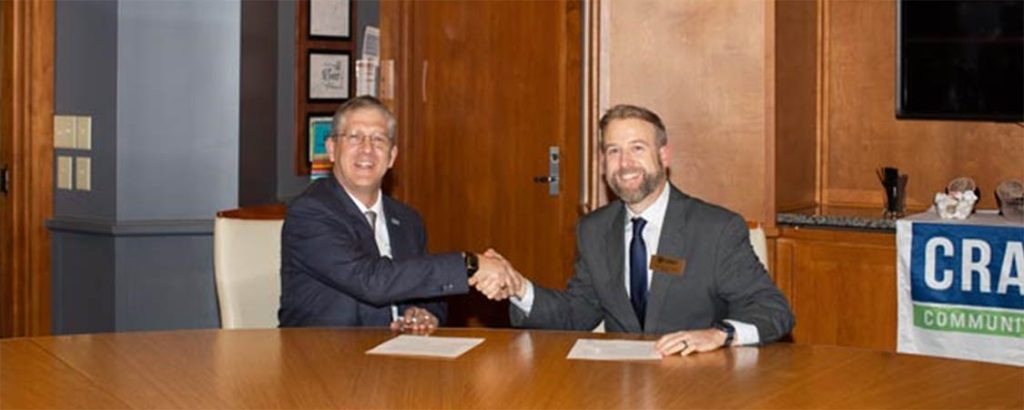 North Carolina Wesleyan University (NCWU) and Craven Community College (Craven CC) expanded their relationship today by signing an education partnership agreement that supports undergraduate and graduate degree completion opportunities for Craven CC employees.
"We have enjoyed our partnership with Craven Community College that spans multiple decades and look forward to enhancing the higher education opportunities for their employees," said NCWU President Dr. Evan D. Duff.
This partnership allows Craven CC employees to receive reduced tuition rates of $350 per credit hour for undergraduate programs at NCWU and $400 per credit hour for graduate programs. The dynamic program allows employees to remain employed while attending classes online or one night per week. One-on-one advising support and mentoring will also be provided.
Craven CC and NC Wesleyan already have existing transfer agreements in place that allow students to transfer to NC Wesleyan. In addition, they are able complete a bachelor's degree on Craven's New Bern campus in business administration or organizational administration, as well as accounting, criminal justice, and marketing.
"We are here to provide educational opportunities to our community, and there is no reason those opportunities should be limited to incoming Craven CC students," said Dr. Ray Staats, Craven CC President. "Our faculty and staff are vital to our success, and we are excited and grateful to offer this opportunity with one of our closest and most valued educational partners."
For details on open job opportunities that are eligible for the reduced NCWU tuition rate, contact Denise Salerno, Craven CC Executive Director of Human Resources, at 252-638-7225.
By Craig Ramey