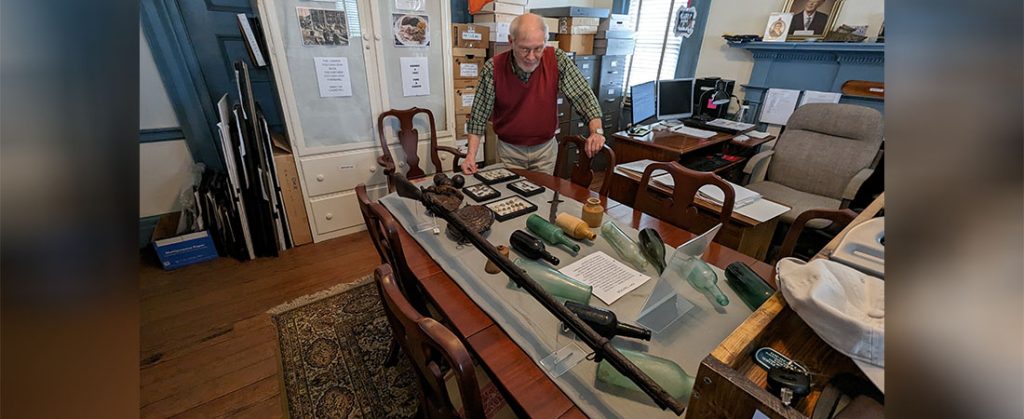 The New Bern Historical Society will turn 100 years old this year and they plan to spend the year in celebration. From special twists on popular events, to nationally known speakers, to a commemorative exhibit in the North Carolina History Center, 2023 will be filled with excitement.
Executive Director, Mickey Miller explains: "One hundred years of service is a remarkable landmark! We will observe it with special activities and events to recognize the past, celebrate the present and inspire the future. We also have some very special new projects we know will excite."
Everyone is invited to join in the celebration. The capstone is the Historical Society's extended gift to the community – a 100th Anniversary Exhibit at the North Carolina History Center: "Through the Looking Glass, A Journey with the Storytellers." The exhibit will fill the Duffy Gallery and will be free and open to the public from April 2023 into January of 2024.
After 100 years, the Historical Society has a large collection of images and artifacts of New Bern's history. Many of these have been hidden for years in our files and storage, and others will be on loan from friends. The generosity of many has made this impressive exhibit possible. Expect all the popular events including Harry Goodman Battlefield Adventure Day, the Hallowed Ground Lantern Tour, Heritage Homes Tour, and Ghostwalk along with even more Lunch & Learn opportunities. Watch for additional presentations from well-known speakers including authors David Cecelski and Peter Sandbeck. There will also be a special commemorative addition to the Attmore-Oliver House Garden.
One hundred years is quite a feat for any organization! It began at the home of Mrs. R. N. Duffy on April 19, 1923, when 19 people gathered to start a branch of the State Historical Society. It has grown over the years to more than 1200 members with our mission to "celebrate and promote New Bern and its heritage through events and education." That's a century of service telling the story of the remarkable people and events that have shaped this community and contributed to our state and nation.
Offices are located in the historic Attmore-Oliver House at 511 Broad Street in New Bern. For more information, call 252-638-8558 or go visit NewBernHistorical.org or facebook.com/NewBernHistoricalSociety.
By Mickey Miller, Executive Director