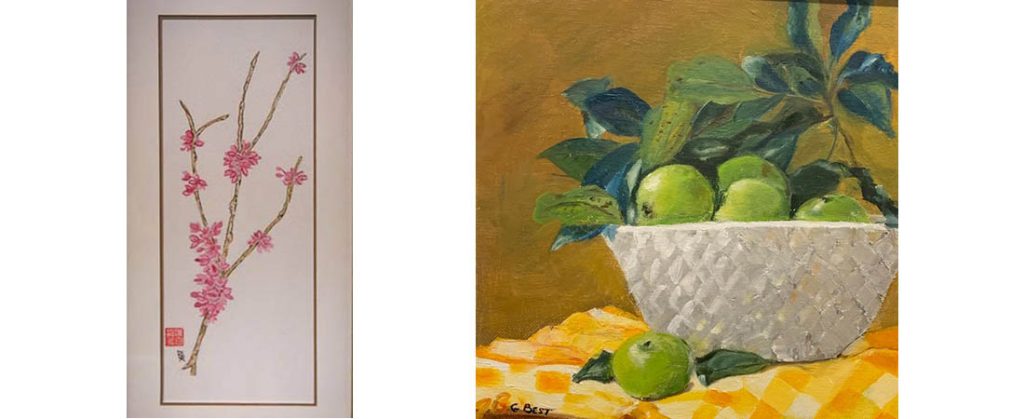 ArtWalk January 9, 5 – 8 p.m.
"Treasures and Memories" will fill our windows in January, visit us to see all of the Artists new Creations. Our Gallery has paintings, woodworking, jewelry, basket weaving, pottery, handbags, weaving and much more.
The Artists of the Month are Janet Draper, pastel artist; Carmen Platek, pottery and Debra Burrington, watercolor artist.
Janet Draper began painting with pastels when she retired and moved to New Bern in 2007.  She admires and studies the impressionists and takes online art classes and workshops.  Her favorite subject to paint are beaches, marsh landscapes and flowers.
Deb Burrington attended Art classes in New England and studied with Lisa Beach in Stowe, VT, learning composition and design. She is drawn to light by nature, and she draws her inspiration from interesting and well sunlit places. She enjoys NC marshes, boats and beautiful creeks. She won Outstanding Watercolor in Central Adirondack Art show and in Old Forge, NY.
Carmen Platek studied Art and Fashion in New York, but in 1998 she discovered "clay hand building", it is not done on a wheel. She uses coils, slabs and pinch pots to create her work.
Visit our upstairs Studio Annex shared by Joyce Stratton, Susan Cheatham, Heide Lock and Belinda Scheber.
Visit communityartistsgallery.org or our Facebook page for news and upcoming Art Classes.
Community Artists Gallery and Studios is non-profit and staffed by all participating artists.
By Karen Rawson