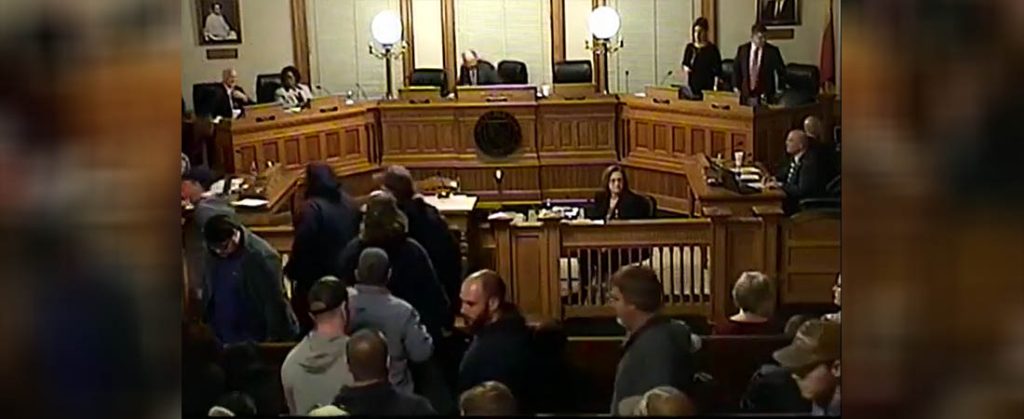 The City of New Bern hired Piedmont Triad Regional Council (PTRC) to conduct a market salary study of their workforce in February 2022 and it continued through until this the first week in December. The study compared the city's pay scale with benchmark cities that included Clayton, Craven County, Goldsboro, Greenville, Havelock, Jacksonville, Kinston, Morehead City, Pitt County, Rocky Mount, Statesville, Wake County, Washington, Wilmington, Wilson, and Greenville Util. Com.
During the Nov. 3 Board of Aldermen (BOA) Retreat, City Manager Foster Hughes told the board that 460 employees are underpaid. He said the cost of the full implementation would be a "total of $1.7 million over the next six months. Over the course of a year, the following year, it would be approximately $3.6 million." The alternate would be an incremental increase. He said was "5% or 7.5%…the first six months it would overall be about $825,000 for the course of a year. It would be just under $1.7 million with a 7.5% increase." He stated, "For six months, $1.2 million dollars. For the course of a year just under $2.5 million. Even if we did the 5% or 7.5%, we're still behind in the market. We're always going to be playing catch up."
Human Resource Director Sonya Hayes said, "There are some positions that were identified that it's recommended that they move up by one grade which equates to a 5% increase…some that were recommended to move up by two grades that would be 10% and some three grades which is 15%."
According to PTRC's report dated Dec. 5, recommendations were to "Adopt recommendations in Paragraphs A and B of their market salary study: $2,804,292; 25% FICA, Retirement, etc. $701,073; with a Funding Requirement of $3,505,365."
During the Dec. 13 meeting BOA meeting, City Manager Foster Hughes provided a breakdown in the classification pay plan. "There are 203 position titles…like a police office, recreation program coordinator…" He continued, "As of today that represents 460 employees. 55 of those positions and titles are recommended to advance one pay grade representing 80 employees. One hundred and twenty-two position titles are recommended to advance two pay grades and are 261 employees. And twenty-four of those positions and titles are recommended to advance three pay grades, that affects 117 employees. Two positions are recommended to decrease one pay grade and that affects two employees."
Hughes continued, "The City of New Bern recommends implementing this as a two-step process. The first step would be basically a 66% implementation plan…with the check date of Jan. 13, 2023. What that would include is a one grade advance of 3% annual salary increase that would affect 80 employees. The second-grade advance would be a 6% annual salary increase, that would affect 261 employees. The three-grade advance would be a 10% increase. That would affect 117 employees. Employees assigned to a position that would decrease by one grade would receive a 1% bonus. Total implementation cost is approximately $1.15M for six months ending June 30, 2023 for one year to fund the 66% would be $2.3M. Proposed funding would come from the general and enterprise funds. Step two would look at funding the balance during the 23-24 budget process."
Employees and their supporters filled the benches listening to the discussion.
Members of the board voiced their opinions on the importance of paying employees. At one point, Alderman Barbara Best asked if the employees understood what was being proposed and someone in the audience shouted, "We disagree."
Based on the city's recommendation, they committed 66% to be effective in January 2023. The BOA amended the classification of the pay plan with a target date of July 1 for the rest of the implementation. Members of the board emphasized it was a target date as they could not obligate funds. The motion passed unanimously. Alderman Johnnie Ray Kinsey was absent.
The city manager's salary was not included in the Market Salary Study. According to a press release, when Hughes was hired dated Sept. 16, 2021, he received a "salary of 165,000 a year plus a $500 a month vehicle allowance." It also noted, "Mr. Hughes to work as quickly as possible to locate an assistant city manager." The Assistant City Manager was hired the following month. Another release read, "Mr. Williams' annual salary will be $135,000." Marvin Williams was the Havelock Chief of Police before assuming the position.
During new business, Alderman Bob Brinson announced the board previously discussed giving the city manager a bonus for his work in a closed session. The board unanimously approved a bonus of $12,000 for Foster Hughes.
The city did not respond to a request for comment.
It's unknown at this time how much the city paid for PTRC's Market Salary Study.
Questions or comments? Send an email.
By Wendy Card, Editor
Related article: City of New Bern's Workforce is Underpaid
Watch meeting here: