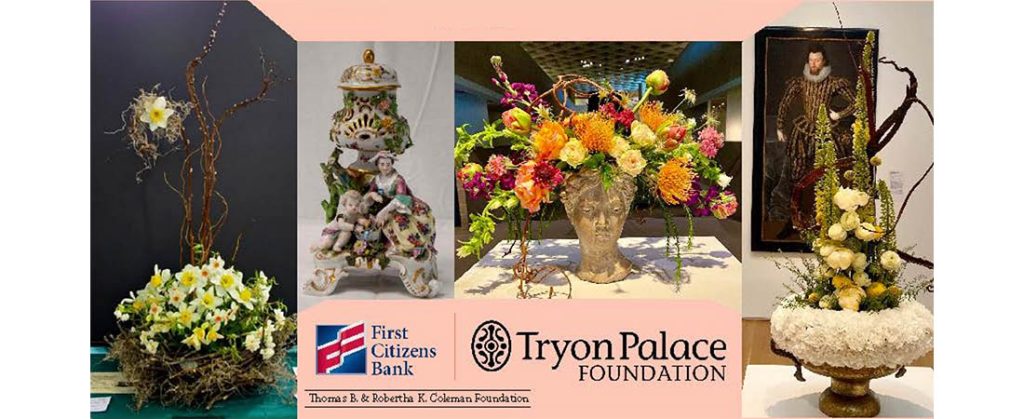 This January, Tryon Palace will present an inspiring and eclectic exhibit of collection pieces from the "attic," alongside captivating floral designs reflecting characteristics of the artifact. History in Bloom will be showcased in the Duffy Exhibition Gallery at the North Carolina History Center and is open to the public for one weekend only, Jan.21 – 22, 2023. Twenty-one floral designers from across the state are participating, each with their creative floral interpretation of a museum object.
On Jan. 20, the Tryon Palace Foundation will host an equally extraordinary event, the History in Bloom Preview Party and Culinary Experience. Attendees will not only view this very special exhibit first but will be able to meet and speak with the floral designers about the floral arrangements and members from the Tryon Palace Collections staff about the collection pieces. This remarkable event will also offer an exquisite culinary experience from some of New Bern's finest chefs. A savory menu of charcuterie, small plates of appetizers and petite entrees, concluding with delectable sweets will be served, paired perfectly with fine wines. Distinguished chefs from Persimmons, Cypress Hall, Posh Nosh and Mayte Sweets will be creating the delicious fare. Taking place in the North Carolina History Center's Mattocks Hall, from 6 p.m. – 9 p.m., attendees of this epicurean affair of history, artistic creations, fine food and wine will also enjoy the soothing melodies of a live string ensemble. The evening is black tie optional and promises to be memorable.
Tickets to the History in Bloom Preview Party and Culinary Experience are on sale now, online, by phone at 252-639-3527, or in person at the North Carolina History Center, 529 S. Front Street, New Bern. They are $150 plus tax per person until the end of December 2022. After that, the tickets rise to $160. However, Tryon Palace Foundation members can still purchase at the early bird price of $150. All proceeds benefit the Tryon Palace Foundation. Tickets to this event will make the perfect holiday gift for someone special in your life. But mostly, it is an evening you won't want to miss.
Tickets for the public viewing of the History in Bloom exhibit are $6 plus tax. The exhibit will be open on Jan. 21, from 10 a.m. to 5 p.m., and on Jan. 22, from 12 noon to 5 p.m. Tickets can be purchased online, or at the North Carolina ticket desk prior to the opening and throughout the weekend.
Begin 2023 extraordinarily, with this fabulous event and exhibit.
By Tryon Palace