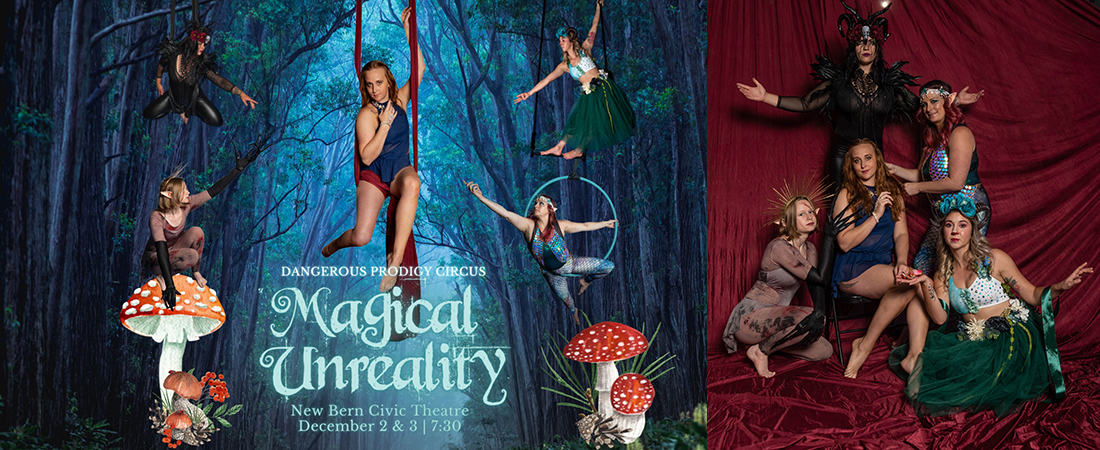 Dangerous Prodigy Circus returns to the New Bern Civic Theatre (NBCT) stage with "Magical Unreality," a high-flying aerial show set in the land of fairies. Performances will take place this weekend only, Dec. 2 – 3, with shows starting at 7:30 p.m.
Magical Unreality takes place in a fantasy world of fairies, tricksters, mushroom dancers and shadowy creatures. Told through acrobatics, aerials, and dance, Magical Unreality is a story that begins with Alice, a curious human who stumbles upon a magical bracelet that carries her into the world of the fairies. Forces of darkness and light collide as she tries to find her way home. Never knowing who she can trust, she is ensnared by the greedy Jewel, led astray by Trickster and Creature and enchanted by Flora and Lake. But an evil force is lurking, waiting for its moment to steal the magical bracelet and trap Alice in the fairy realm forever.
Performances include aerial acts on lyra, silk, cube, straps, trapeze and sphere, as well as dance routines, hula hoops and helpful little mushrooms.
"We are thrilled to be partnering again with New Bern Civic Theatre," said Kara Jordan, founder of the Dangerous Prodigy Circus. "We are stepping back on the NBCT stage for the second time this year with an all-new original production. This time our audience will enter an enchanted fairy world filled with exciting aerials and fun ground routines."
Magical Unreality is presented by Dangerous Prodigy Circus, a local performance group composed of Kara Jordan, Devon Beckett, Olivia Brown, Nikki Gardner, Victoria McGarvey, Amélie Saxon and Jessica Saxon. This performance also includes special appearances by Neil Oliver, Peyton Jenkins and Bryce Detwiler as "the Mushrooms."
Doors and concessions open at 7 p.m. The show begins at 7:30 p.m. and will include a 15-minute intermission. Beer and wine will be available for purchase. This show is rated PG.
Tickets are $19 and available online here, by phone at 252-633-0567, and at the box office located at 414 Pollock Street, New Bern.
By New Bern Civic Theatre