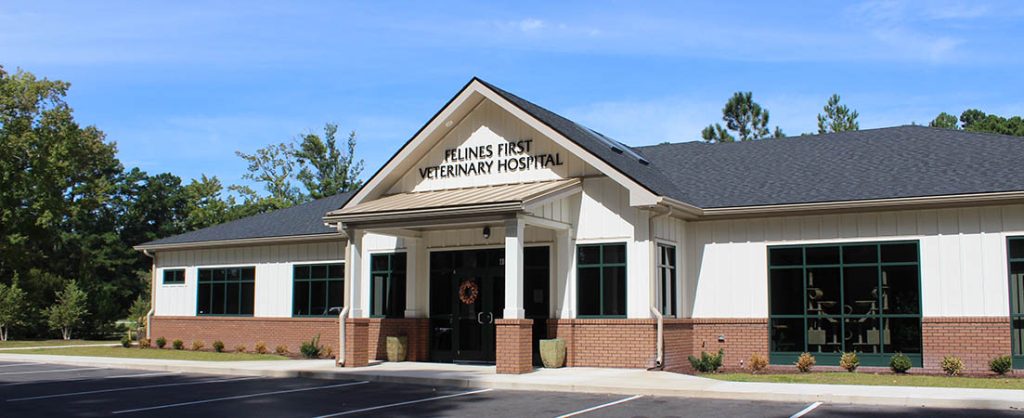 Join Felines First Veterinary Hospital — Craven Animal Hospital's sister facility at our open house on Saturday, Oct. 29 from 11 a.m. – 2 p.m. Tour the hospital, win prizes, meet the doctor and staff, and enjoy snacks and beverages. See for yourself the only veterinary hospital in the area catering just to our feline friends.
Introducing Felines First Veterinary Hospital (FFVH), the only hospital in Craven County that caters specifically to our feline friends.
FFVH provides a welcoming, quiet environment free of those unwelcome canine sounds and smells that make our smaller four-legged family members nervous. We utilize fear free techniques to minimize anxiety and stress during visits and provide the best possible experience for cats and their owners. In fact, we have already been approved by the American Association of Feline Practitioners as a Gold level cat friendly practice.
We are extremely fortunate to have Dr. Meghan Dail as our primary veterinarian at FFVH. Dr. Dail brings thirteen years of feline exclusive experience and is certified as an Elite fear free practitioner; this is the highest level of certification that a veterinarian can obtain. Her expertise combined with our skilled and experienced management and support team allows us to provide your furry friends with the best possible care.
Felines First Veterinary Hospital is located at 4605 Old Cherry Point Road in New Bern.
By Gary Hightower